Junior Faculty Series: Kadji Amin's "Taxonomically Queer?"
Nov 8, 2022 @ 4:00 pm
-
5:30 pm
Kaplan Hall 193 and on Zoom,
415 Portola Plaza

CA

90095

United States
+ Google Map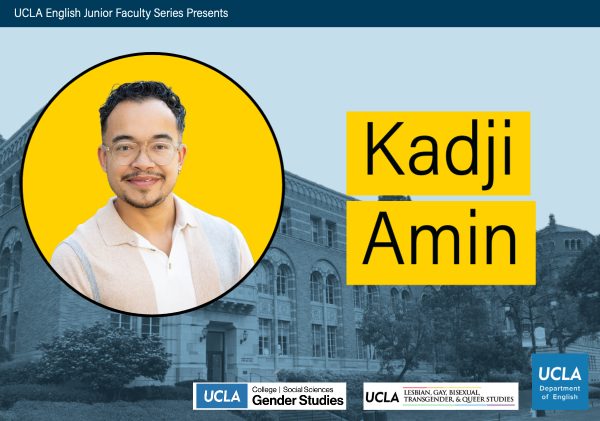 Join UCLA English for a talk featuring Kadji Amin, associate professor of Women's, Gender, and Sexuality Studies at Emory University. Professor Amin will present his new paper, "Taxonomically Queer?: Sexology and New Queer, Trans, and Asexual Identities," forthcoming in "The Science of Sex Itself," Special Issue of GLQ: A Journal of Lesbian and Gay Studies. 
Register here for onsite attendance in Kaplan Hall 193 or online attendance on Zoom. 
Abstract: 
Can taxonomy – a scientific method critiqued for its utility within Western imperial projects of racial and species classification – be queered? This talk mines the tensions between the hostility to taxonomy within critical theory and the taxonomical renaissance within contemporary queer, trans, and asexual vernacular systems of classification. Contemporary queer uses of taxonomy express a shared utopian vision of combinatorial queerness, in which sexual, gender, and relational liberation occur through a multiplying menu of increasingly fine-grained identity options. The talk examines the untimely echoes between contemporary queer classification systems and German sexologist Magnus Hirschfeld's 1910 taxonomy of "sexual intermediaries," which forwards a combinatorially lush kaleidoscope of sexual and gendered possibilities that outflanks even contemporary developments. The goal is to simultaneously challenge the notion that sexology is contrary to queer projects and to consider the consequences of acknowledging sexology as a living inheritance of contemporary queer and trans culture. The conclusion asks how Native and racialized queers might resist the universalizing logics of taxonomy from within. 
This lecture is co-sponsored by UCLA Gender Studies and UCLA Lesbian, Gay, Bisexual, Transgender, & Queer Studies. 
Kadji Amin is Associate Professor of Women's, Gender, and Sexuality Studies at Emory University. He is the recipient of a Mellon Postdoctoral Fellowship in "Sex" from the University of Pennsylvania and a Humanities Institute Faculty Fellowship from Stony Brook University. Amin's research focuses on the disorienting effects of the queer and transgender past on politicized fields of scholarship. His first book, Disturbing Attachments: Genet, Modern Pederasty, and Queer History (Duke 2017) won an Honorable Mention for best book in LGBT studies form the GL/Q Caucus of the Modern Language Association. He is currently at work on a second book project, Trans Materialism without Gender Identity, that critiques gender identity as a midcentury psychiatric construct that has done transgender people more harm than good and responds by envisioning a materialist trans politics and theory without gender identity. He is the coeditor, with Amber Jamilla Musser and Roy Pérez, of a special issue of ASAP/Journal on "Queer Form." Dr. Amin serves on the Editorial Board for TSQ: Transgender Studies Quarterly and is the State of the Field Review Editor for GLQ: A Journal of Lesbian and Gay Studies.