First Do No Harm: On the Interplay of Folklore, Myth, and Medicine from the Ancient World to the Renaissance and Beyond
Jun 1, 2018
-
Jun 2, 2018
De Neve Plaza B,
351 Charles E. Young Drive West




Los Angeles

,

CA

90095

United States
+ Google Map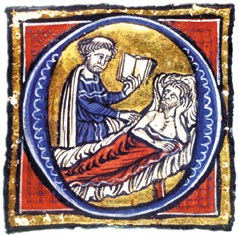 CMRS Medical Humanities Conference –
This conference, organized by CMRS Affiliate Dr. Sara Burdorff (Lecturer, English, UCLA), Professor Stephanie Jamison (Asian Languages and Cultures, UCLA) and Professor Olga Yokoyama (Applied Linguistics, UCLA), examines the intersections between mythology, folklore, and medicine in literature from the classical through early modern periods. Inspired by the UCLA Freshman Mythology Cluster course (GE30) and drawing on sources including hagiography and Celtic folklore, medieval romance and early modern drama, this conference engages the critical interplay between medical and literary ideations of the trans-historical human experience.
Advance registration is requested. Please click here to complete the short registration form. No fee. Limited seating.
FRIDAY, JUNE 1, 2018 | UCLA DENEVE PLAZA B
9:00 AM
Refreshments
9:45
Welcoming Remarks: Stephanie Jamison (UCLA)
10:00
Rebecca Laroche (University of Colorado, Colorado Springs)
"'For the safegarde of our souls, and . . . our bodies': The Story of Angelica in Early Modern England"
11:00
Break
11:15
Valeria Zubieta Lupo (Independent Scholar)
"About the Diseased in the Hittite Kings' Manly Deeds"
11:45
Joseph F. Nagy (Harvard University)
"Recovering (or not) from Wounds in Medieval Irish Heroic Saga"
SATURDAY, JUNE 2, 2018 | UCLA DENEVE PLAZA B
9:00 am
Refreshments
9:30
Anahita Hoose (UCLA)
"Eros Shook My Mind: Disease, Decline and Divinity in the Sapphic Corpus"
10:00
Alain Touwaide (UCLA, The Huntington, and the Institute for the Preservation of Medical Traditions)
"Medical Mythology Across the Ancient and Medieval Mediterranean"
11:00
Break
11:15
Hanna Young (UCLA)
"'I Grant You Life': On the Psychological Significance of Punishment and Reinforcement Techniques in the Parent Child Relationship, as seen in Pallas et Arachne"
11:30
Perry Tran (UCLA)
"Peasants, Priests, and Popular Faith: Healing Through Sacrifice in Accordance with Saints' Tales"
11:45
Davide Ermacora (University of Venice)
"Embedded Pins and Migratory Needles: An Historical Folklore Perspective"
12:45 PM
Lunch Break
1:45
Sarah Alison Miller (Duquesne University)
"Cuts, Illness, Pain, and Joy in the Legenda Aurea"
2:45
Scottie Hale Buehler (UCLA)
"Killed by Ignorance? Legends of Midwifery Infanticide in Eighteenth-Century France"
3:15
Break
3:30
Denise L. Despres (University of Puget Sound)
"The Barber Surgeons and the York Cycle"
4:30
Stefanie Matabang (UCLA)
"Fainting Spells, Wailing and Lamentation: Curing Colonial Fatalism in the Philippine Metrical Romance, Florante at Laura"
5:00
Break
5:15
Doris Valeria Voronca (UCLA)
"Blue Devil Fever: Possession, Depression, and Scottish Demonology"
5:45
Closing Remarks: Sara Frances Burdorff (UCLA)