EMRG Works-in-Progress Sessions: Summer Mentorship Research Projects
May 26, 2021 @ 4:00 pm
-
6:00 pm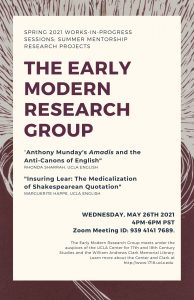 The Graduate Certificate in Early Modern Studies, administered by the Center for 17th- & 18th-Century Studies, offers UCLA graduate students an avenue to explore the increasingly transnational and interdisciplinary nature of early modern studies through specially designated comparative courses and unique fellowship and mentoring opportunities.
Students in the certificate program are eligible to apply for competitive Summer Mentorships, which provide financial support to complete one of the certificate requirements: a 25-page paper on an early modern studies topic of interdisciplinary breadth. The Summer Mentorship affords the opportunity for students to work closely with a Center/Clark Core Faculty member to develop their paper for presentation at an academic conference or for potential publication.
The Early Modern Research Group, which meets under the auspices of the UCLA Center for 17th- & 18th-Century Studies and the William Andrews Clark Memorial Library, invites you to attend this work-in-progress session featuring presentations by two Summer Mentorship awardees. Following each presentation, the speakers and their faculty mentors welcome feedback from attendees during a collaborative discussion.
Rhonda Sharrah will be presenting her Summer Mentorship research project, "Anthony Munday's Amadis and the Anti-Canons of English." She is mentored by Professor Barbara Fuchs. Marguerite Happewill be presenting her project, "Insuring Lear: The Medicalization of Shakespeare Quotation." She is mentored by Professor Helen Deutsch.
Contact lmunoz0@ucla.edu with questions.