De la Sierra a la ficción: líderes revolucionarios en la literatura cubana contemporánea
Feb 25, 2021 @ 4:10 pm
-
6:10 pm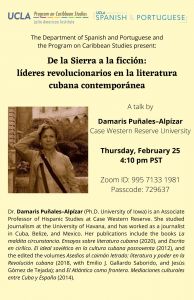 Una de las operaciones más concretas que demuestra las inevitables transformaciones en la producción literaria más recientes en Cuba tiene que ver con la conversión de Fidel Castro en personaje literario, desprovisto de cualquier carga heroica y del tono reverencial con el que se le trató siempre en la isla. Si durante décadas su transformación en personaje de ficción estuvo marcada casi siempre por la línea divisoria de "a favor" (dentro de la isla) o "en contra" (fuera de ella), a últimas fechas han aparecido obras escritas por autores que siguen viviendo y trabajando en Cuba en las que el ex mandatario cubano aparece como personaje literario, representado en términos críticos, o al menos, vulgarizadores y lúdicos. De dos de estas obras estaremos hablando en esta charla: Archivo, de Jorge Enrique Lage y Días de entrenamiento, de Ahmel Echevarría, ambas del 2015.
Bio :
Dr. Damaris Puñales–Alpízar is an Associate Professor of Hispanic Studies at Case Western Reserve. She studied Journalism at the University of Havana, and has worked as a journalist in Cuba, Belize, and Mexico. She completed her Ph.D. at the University of Iowa, and since then she has worked at Case Western Reserve University, where she teaches courses on the Caribbean and Latin American literature and culture. Her publications include the books La maldita circunstancia. Ensayos sobre literatura cubana (2020), and Escrito en cirílico. El ideal soviético en la cultura cubana posnoventa (2012). She has edited the volumes Asedios al caimán letrado: literatura y poder en la Revolución cubana (2018, with Emilio J. Gallardo Saborido, and Jesús Gómez de Tejada); and El Atlántico como frontera. Mediaciones culturales entre Cuba y España (2014).
Join via Zoom:
Zoom ID: 995 7133 1981
Zoom Password: 729637
To download flyer, please click here.