CMRS-CEGS Research Seminar: Iranian 250
May 11, 2022 @ 9:00 am
-
10:30 am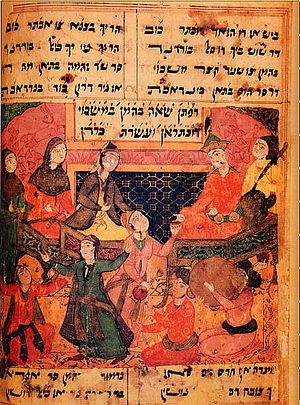 Julia Rubanovich (Hebrew University of Jerusalem) presents an online lecture titled "The Tale of Yūsuf and Zulaykhā through the Eyes of a Jewish Poet".
This talk will examine a string of episodes from the tale of Yūsuf and Zulaykhā embedded into the "Book of Genesis" (Bereshit-nāma), a biblical poem composed by the fourteenth-century Judeo-Persian poet Shāhīn. Shāhīn's work is situated at a convenient juncture for comparative analysis: it is preceded by the poem Yūsif-u Zulaykhā erroneously ascribed to Firdausī (composed at the end of the eleventh century) and followed by Jāmī's famous mathnavī. While juxtaposing several key episodes of the tale in the three poems, Dr. Rubanovich will attempt to highlight the peculiar interpretation that the Jewish poet lends to the patently Islamic subject-matter, maneuvering between his commitment to the biblical source on the one hand, and the desire to gratify his addressees on the other.
Julia Rubanovich (PhD 2005) is Senior Lecturer in Persian Language and Literature and Chair of the Department of Islamic and Middle Eastern Studies at the Hebrew University of Jerusalem. Her research interests center on medieval Persian literature, including Judeo-Persian; the Alexander-Romance in the Islamic domain; the mechanisms of literary reception, specifically in connection with Firdausī's Shāh-nāma; the evolution of literary canon; folk literature, notably prose dāstāns, and the problem of medieval orality; the concepts of authorship and the emergence of authorial self-consciousness in medieval Persian literature. She is presently working on the scholarly edition and annotated translation of the Tale of Joseph/Yūsuf and Zulaykhā in a fourteenth-century Judeo-Persian epic poem Bereshīt-nāma (Book of Genesis) by Shāhīn.
Iranian 250, "Persian Literature in English Translation: Global and Interdisciplinary Perspectives,"  taught by Associate Professor Domenico Ingenito (NELC), offers a survey of medieval and early modern Persian literature in English translation. The seminar fosters interdisciplinary conversations among graduate students from a plurality of departments and programs, including Islamic Studies, Gender Studies, History, Art History, Global Medieval and Renaissance Studies, English, and Comparative Literature. All sessions will be held in English, and students with no prior knowledge of Persian are welcome to enroll. Twice a month, international scholars will deliver lectures focusing on their current research trajectories. Key topics: epics and ethnic identity, philosophical poetics and occasion, mysticism and performative queerness, Judeo-Islamic literary intersections, ideals of beauty and lyric performance, literary modernity from Ottoman Turkey to Moghul India, German romantic and modernist appropriations of the Persian poetic canon, etc. In collaboration with the UCLA Program of Iranian Studies.
Wednesday, May 11 at 9:00 am Pacific Time
Register here for online attendance on Zoom.
Image: Painting from Baysunghur's manuscript of Sa'di's Gulistan, Herat. Chester Beatty Library, Dublin.