Being in the World: Careers in Tech
Feb 14 @ 6:00 pm
-
7:00 pm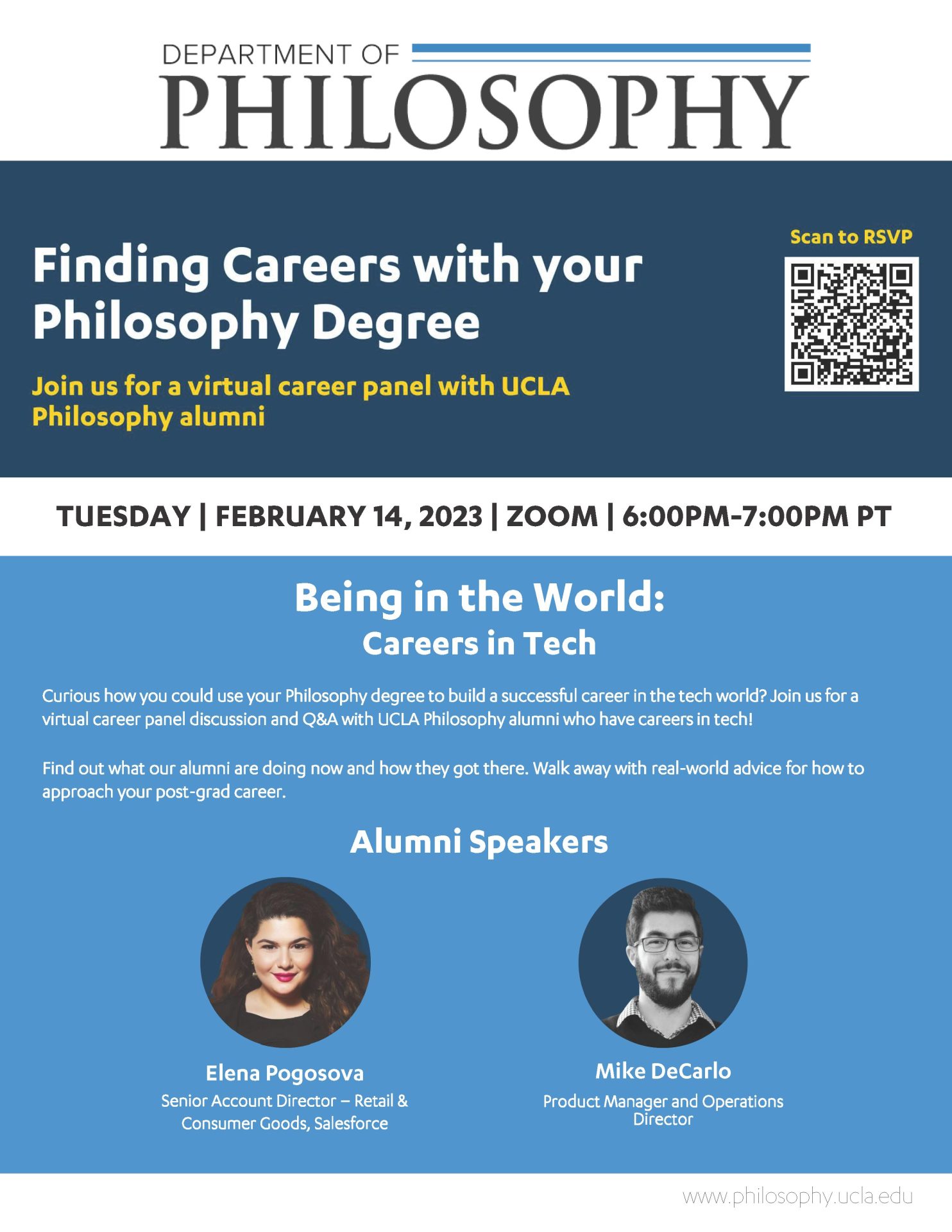 February 14, 2023 | 6:00PM – 7:00PM PT
Zoom
Curious how you could use your Philosophy degree to build a successful career in the tech world? Join us for a virtual career panel discussion and Q&A with UCLA Philosophy alumni who have careers in tech!
Find out what our alumni are doing now and how they got there. Walk away with real-world advice for how to approach your post-grad career.
RSVP below to get the Zoom link.
Meet the Speakers
Mike DeCarlo, Product Manager and Operations Director

Mike graduated with a BA in Philosophy from UCLA in 2009 and has worked in software since 2010. Starting at Facebook (now Meta) in a policy enforcement role, he quickly learned the power of data in asking and answering valuable business questions. Most recently he has applied his analytical skills to developing data/business intelligence software as a service (SaaS) and standardizing processes around the software product lifecycle. Mike lives in the San Francisco Bay Area with his wife and two kids.
Elena Pogosova, Senior Account Director – Retail & Consumer Goods, Salesforce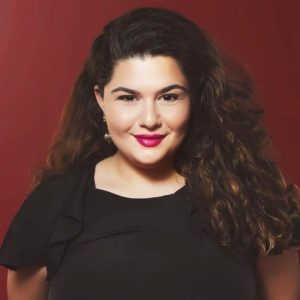 Elena Pogosova graduated from UCLA in 2019 with B.A. in Philosophy and minors in Russian Language & Entrepreneurship. Upon her graduation, she kick-started her career in tech sales as a business development representative at Oracle. Currently, Elena works as an Account Director at Salesforce as part of the Retail & Consumer Goods group. Additionally, Elena mentors individuals interested in professional development and works on projects related to corporate diversity & inclusion. When not in meetings, you can find her traveling, trying out new foods, and reviewing new movies/TV shows.
var gform;gform||(document.addEventListener("gform_main_scripts_loaded",function(){gform.scriptsLoaded=!0}),window.addEventListener("DOMContentLoaded",function(){gform.domLoaded=!0}),gform={domLoaded:!1,scriptsLoaded:!1,initializeOnLoaded:function(o){gform.domLoaded&&gform.scriptsLoaded?o():!gform.domLoaded&&gform.scriptsLoaded?window.addEventListener("DOMContentLoaded",o):document.addEventListener("gform_main_scripts_loaded",o)},hooks:{action:{},filter:{}},addAction:function(o,n,r,t){gform.addHook("action",o,n,r,t)},addFilter:function(o,n,r,t){gform.addHook("filter",o,n,r,t)},doAction:function(o){gform.doHook("action",o,arguments)},applyFilters:function(o){return gform.doHook("filter",o,arguments)},removeAction:function(o,n){gform.removeHook("action",o,n)},removeFilter:function(o,n,r){gform.removeHook("filter",o,n,r)},addHook:function(o,n,r,t,i){null==gform.hooks[o][n]&&(gform.hooks[o][n]=[]);var e=gform.hooks[o][n];null==i&&(i=n+"_"+e.length),gform.hooks[o][n].push({tag:i,callable:r,priority:t=null==t?10:t})},doHook:function(n,o,r){var t;if(r=Array.prototype.slice.call(r,1),null!=gform.hooks[n][o]&&((o=gform.hooks[n][o]).sort(function(o,n){return o.priority-n.priority}),o.forEach(function(o){"function"!=typeof(t=o.callable)&&(t=window[t]),"action"==n?t.apply(null,r):r[0]=t.apply(null,r)})),"filter"==n)return r[0]},removeHook:function(o,n,t,i){var r;null!=gform.hooks[o][n]&&(r=(r=gform.hooks[o][n]).filter(function(o,n,r){return!!(null!=i&&i!=o.tag||null!=t&&t!=o.priority)}),gform.hooks[o][n]=r)}});
RSVP: Being in the World: Careers in Tech – February 14, 2023