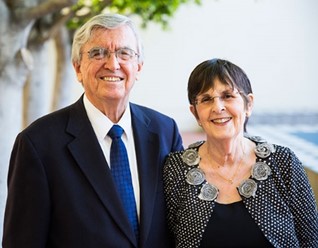 Photo: Nicolaos (Nick) Alexopoulos and Sue Curtis Alexopoulos
The UCLA Stavros Niarchos Foundation Center for the Study of Hellenic Culture (UCLA SNF Center) has received a substantial gift from former UCLA Professor Nicolaos (Nick) Alexopoulos and his wife, Sue Curtis Alexopoulos, in memory of Nick's brother, Aristides G. Alexopoulos.
The Aristides G. Alexopoulos Endowed Student Fund will provide assistance in the form of small grants to students in financial need, with preference given to undergraduate and graduate students of Hellenic descent or with parents of Greek citizenship. These grants will help students achieve their academic or professional goals as well as overcome unexpected challenges.
Alexopoulos specified this as the purpose of the endowment because of his own experience as an undergraduate at the University of Michigan, where he was the beneficiary of a small grant that provided funds at a moment of critical need.
Dean of Humanities David Schaberg said, "UCLA is grateful for this wonderful gift, which truly embodies the Greek spirit of philanthropy. Future generations will continue to appreciate and benefit from the support of the Alexopoulos Endowment."
From 1969 to 1996, Alexopoulos was a faculty member of the UCLA Henry Samueli School of Engineering and Applied Science, serving as chair of the electrical engineering department and as associate dean for faculty affairs. From 1997 to 2008, he was dean of UC Irvine's Henry Samueli School of Engineering. In 2008, he joined Broadcom Corporation as vice president for Antennas, RF Technologies and University Relations. He currently serves as vice president for Academic Programs and University Relations with the Broadcom Foundation.
Alexopoulos' brother, Aristides, was born in 1940 in Matesi, a village near Andritsaina in the Peloponnese. From his early years, Aristides showed a strong interest in science and technology, and came to the U.S. in 1967.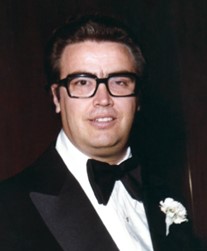 While working as an electrical engineer, he earned his B.S. degree at Eastern Michigan University in 1970. In January of 1973, he was hired at Hughes Aircraft Company in Culver City, and relocated to Los Angeles with his family. In 1974, Aristides was diagnosed with retinal melanoma and his eye was removed. While continuing to work at Hughes, he was awarded a fellowship by his employer to attend USC, where he obtained his M.S. degree in electrical engineering in 1976. Aristides and his supervisor, Earl Swartzlander, invented "The Sign/Logarithm Number System" in 1975, a major contribution to the field of computer science. Unfortunately, even after treatment, Aristides' cancer spread and he died in 1978 at the age of 38, leaving behind a wife, Vivi and a son, Yorgos.
"The Alexopoulos Endowment is an unusual gift—one intended to reach out a hand to those at their moment of greatest need," said Sharon Gerstel, director of the UCLA SNF Center, professor of Byzantine Art and Archaeology, and the George P. Kolovos Family Centennial Term Chair in Hellenic Studies. "The choice to establish such a gift speaks to an enormous generosity of spirit and the eternal love of one brother for another. We are deeply appreciative to Professor Alexopoulos and his wife, Sue Curtis Alexopoulos, for conceiving of such a meaningful tribute to a beloved family member, one that will indeed make his memory eternal."
About the UCLA Stavros Niarchos Foundation Center for the Study of Hellenic Culture
The UCLA Stavros Niarchos Foundation Center for the Study of Hellenic Culture (UCLA SNF Center) was established by a lead gift of $5 million from the Stavros Niarchos Foundation and matching funds provided by generous members of the Hellenic and Philhellenic community of Southern California. The Center builds on UCLA's strengths across many academic fields, placing Hellenic culture within a broad historical, transcultural and contemporary context. Located at one of the most prestigious public universities in the United States, the Center has a tremendous impact on a generation of students that is characterized by its global interests. Language teaching at the undergraduate and graduate levels—as well as adult classes—engages students in the study of ancient, medieval, and modern Greek. The Center supports a comprehensive set of academic and public initiatives, both locally, through strategic collaborations with organizations in Southern California, and in Greece and Cyprus, through partnerships with universities and cultural institutions. For more information about the UCLA SNF Center, please visit hellenic.ucla.edu.