By: Megan Reusche
The Humanities Division at UCLA hosted its sixth annual Humanities Welcome event in Schoenberg Music Building on September 26, 2018. This event occurs every year on the Wednesday of True Bruin Welcome Week and features a welcome speech from Dean Schaberg, presentations from selected speakers and a reception where attendees can mingle with faculty and Humanities club members. The 2018 Humanities Welcome Speakers included Art History Professor Meredith Cohen, second-year Italian and Global Studies major Max Harrell and alumnus Teo Martinez, CEO of Growing Generations. This year, over 240 UCLA students were in attendance and gained insight into the various programs, coursework and clubs available to students within the Humanities Division.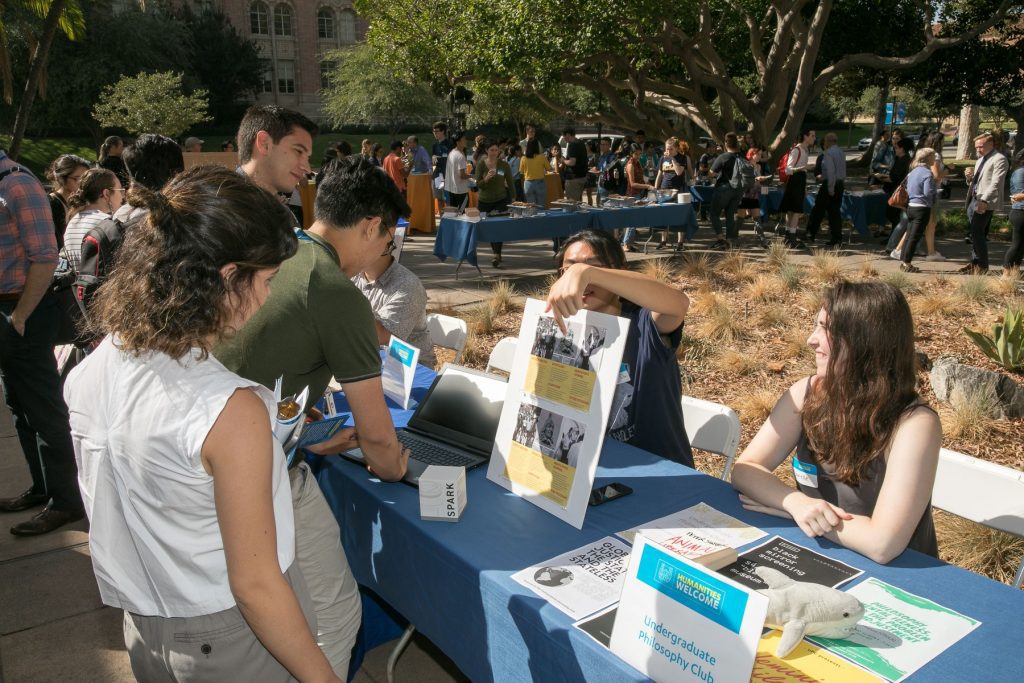 The history of this event dates back to 2011 when Dean Schaberg was appointed as the interim dean of the Humanities Division, attended the 2012 Commencement and wanted to create an event at the beginning of the school year that showcased the best and brightest of the UCLA Humanities Division. "We came to recognize that students taking courses or doing degree programs in the Humanities were not always aware of the range of departments in the division, the variety of disciplines we include, or the ways in which Humanities skills can bring personal and professional success," said Dean Schaberg. "We were also eager to brag about some of the spectacular things our faculty, students, and alumni are doing."
The perspectives, relationships and lessons that UCLA students gain from events such as the Humanities Welcome are important in developing a set of questions within the student, particularly about themselves, their education at UCLA and their purpose beyond graduation. "The single most important thing a student could take away from Humanities Welcome and similar events is a clear sense of intentionality with regard to her or his education at UCLA," said Dean Schaberg. "What are my strengths? What are my weaknesses? How can I find my true professional calling and my own true voice, and how can I make myself as powerful and persuasive as possible as a writer and speaker? How can I use my abilities meaningfully to make others' lives better?"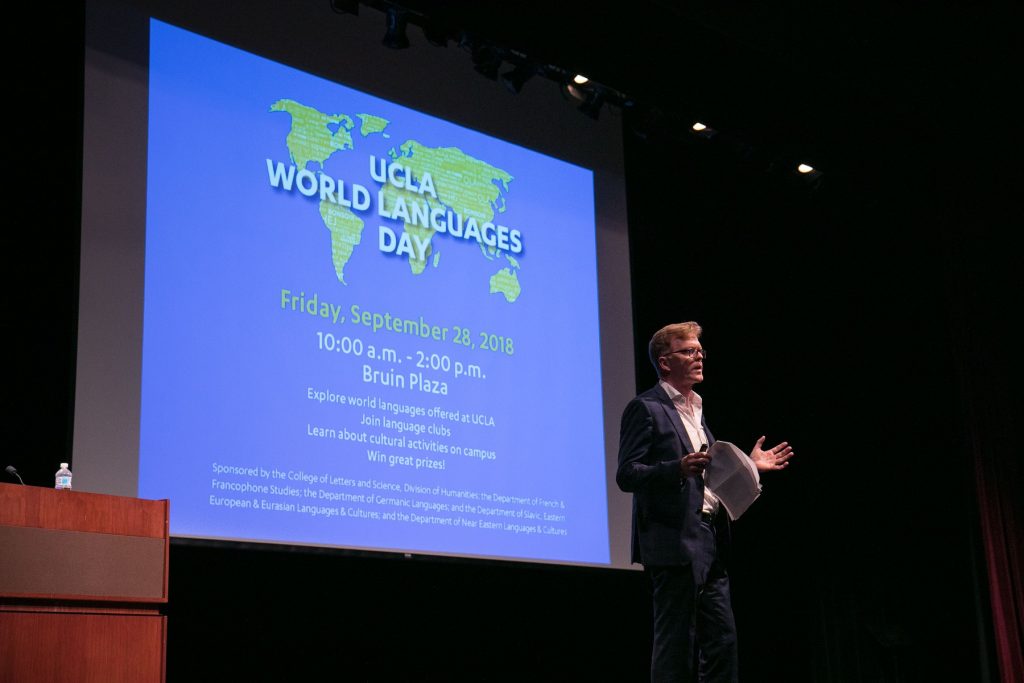 According to Max Harrell, this year's student speaker and a second-year Global Studies and Italian double major, attending events like the Humanities Welcome are important because "you are able to see the different paths people on this campus have take and hearing how differently people understand the campus and what different classes interest them is helpful." Max believes that studying the Humanities is important because "it allows you to draw upon your own background and experiences and use the knowledge you learn in history and language classes to create a very unique vision of the world."
This was the second year that the Humanities Welcome featured a student speaker – a unique and important perspective which allows Humanities undergraduates to see themselves in that student's shoes and inspires them to tell their own story. Max's attended the 2017 Humanities Welcome and like many other students, realized that he too could one day be a student speaker and representative for the Humanities. Onstage as the 2018 student speaker, Max spoke eloquently about the connection between the Humanities and storytelling in his personal life by emphasizing how the "ability to tell your own story and to tell it really well proves how the Humanities helps you in your future career and in your life in general."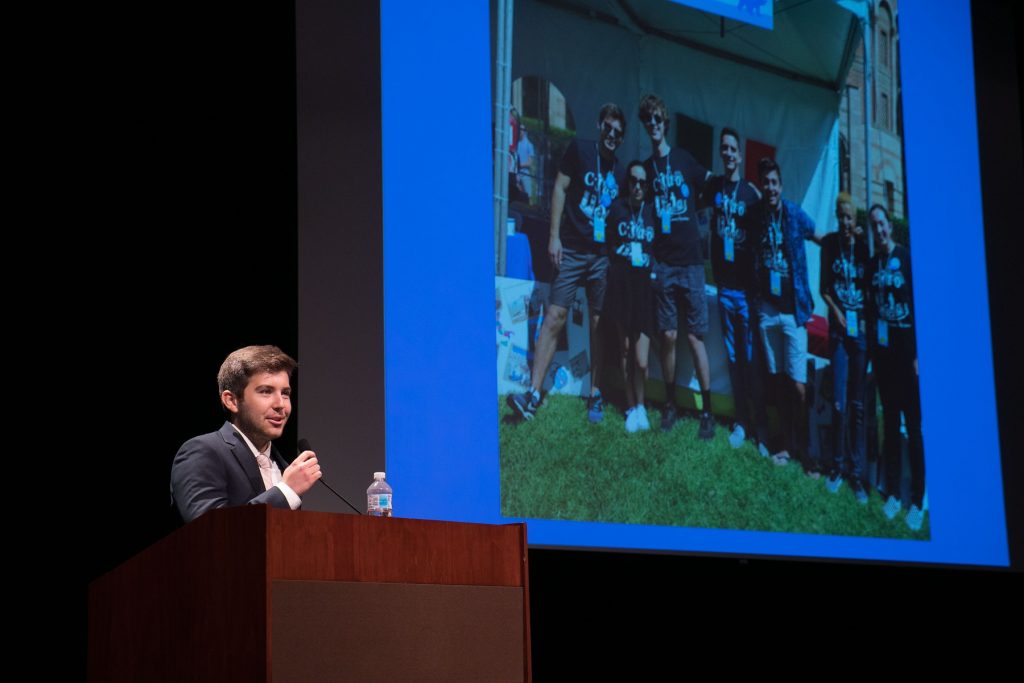 For Dean Schaberg, the highlight of the 2018 Humanities Welcome was the joy and pride he felt by bringing together undergraduates with the selected speakers. "I always find myself smiling throughout all of the presentations, just out of pride for our division and gladness that our undergraduate attendees are getting to hear from the speakers we've invited," said Dean Schaberg. "I must say that the highlight for me for this year was Professor Meredith Cohen's introduction of her wildly innovative course on Gothic architecture, with its digital reconstruction of medieval Paris. Such fun!—and such an intense multimodal form of teaching and learning."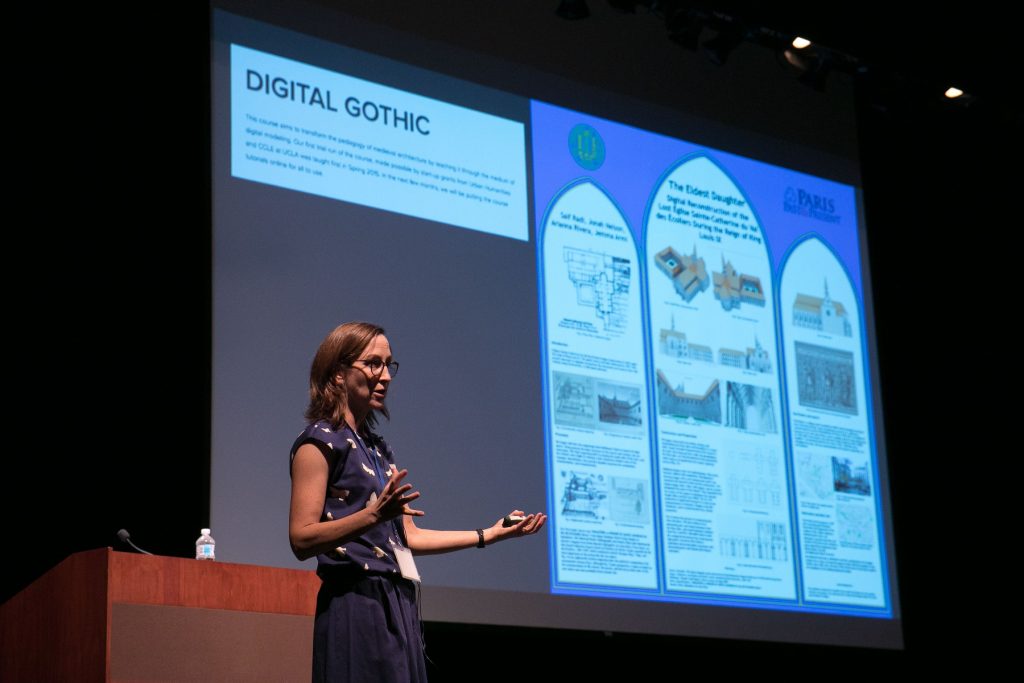 Bringing together students and faculty was also the highlight for Max, who felt that it was important for the undergraduate attendees to hear from both the awe-inspiring UCLA faculty and an accomplished fellow undergraduate. "I loved the fact that the department highlights students and what they are doing, along with professors and alumni because it gives them the same amount of respect as professors," Max said. "To have a student talk, I feel like it encourages students to take initiative and become a central part of the campus."
The Humanities Division is constantly working on new ways to engage faculty and students in an open dialogue that encourages students to understand the role of the Humanities within their personal and professional lives. If students are more interested in learning more about the various opportunities within the Humanities Division at UCLA, Dean Schaberg suggests they attend Ready, Set, Teach! or the Career Panel Series. "This year we added a new event before the Welcome, an extended session on teaching and learning called 'Ready, Set, Teach!' and we involved undergraduates in dialogues with faculty about really successful forms of teaching in the Humanities and about some of the challenges that all of us work to overcome in our classrooms," he said. "Along with our Career Panel Series, this sort of interaction with undergraduates is designed to keep all of our faculty members and graduate student instructors in touch with our students and their particular needs so that we can teach them as effectively as possible. We plan to keep students engaged in the continual process of improving our teaching and tying it more closely to our research."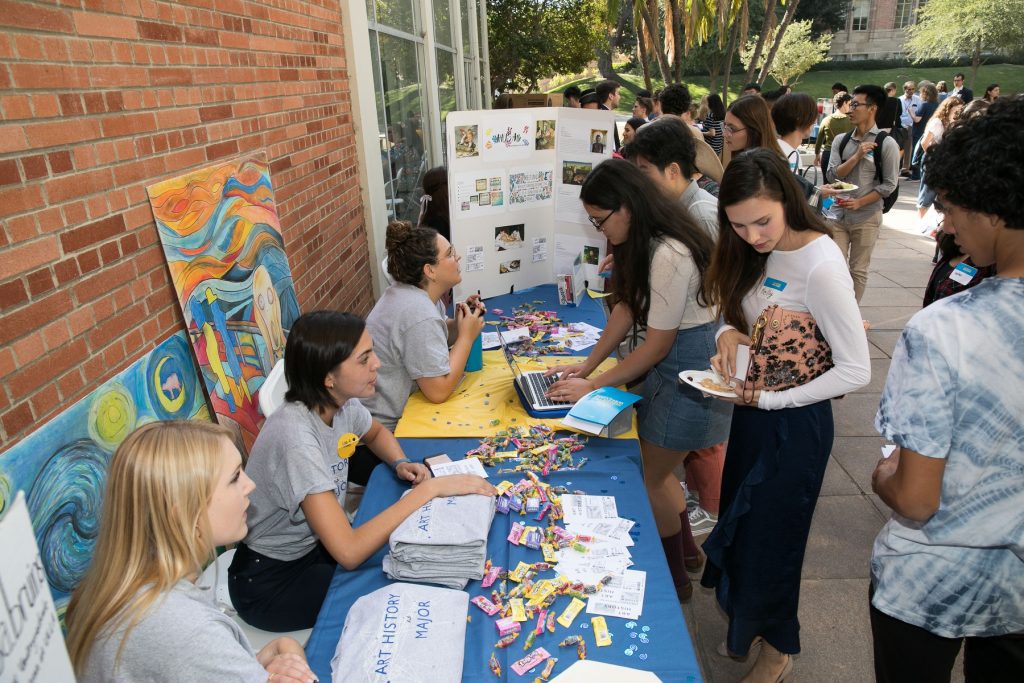 With 48 different majors and 33 minors offered in the Humanities Division, events like the Humanities Welcome, Career Panel Series and Ready, Set, Teach! are important because they represent the diverse perspectives and identities within the Humanities Division and help students create their own individual story through engaged dialogue with faculty and their peers. In doing so, the department aims to demonstrate how the study of the Humanities can impact students within their personal lives, their education at UCLA and in their post-graduate work.