Lucy Berbeo | October 24, 2023
The UCLA Department of Near Eastern Languages and Cultures received a gift of $345,000 from the Robert Lemelson Foundation to establish the Amazigh Studies Program Fund at UCLA, which will advance the global study of the language, history and culture of one of North Africa's oldest indigenous populations.
The project will be led by Aomar Boum, professor of anthropology and of Near Eastern languages and cultures at UCLA, and Brahim El Guabli, chair and associate professor of Arabic studies at Williams College. The scholars, both of whom hail originally from Morocco and are of Amazigh descent, seek to lay the groundwork to build an Amazigh Studies Program in the near future at UCLA, strengthening this burgeoning field in the U.S. and beyond.
"We in the humanities are dedicated to shining a light on the many facets of the world's human legacy in all its diversity," said Alexandra Minna Stern, UCLA's dean of humanities. "We are deeply grateful to the Robert Lemelson Foundation for allowing our scholars to pursue the preservation and dissemination of knowledge of this vibrant indigenous identity and cultural heritage."
---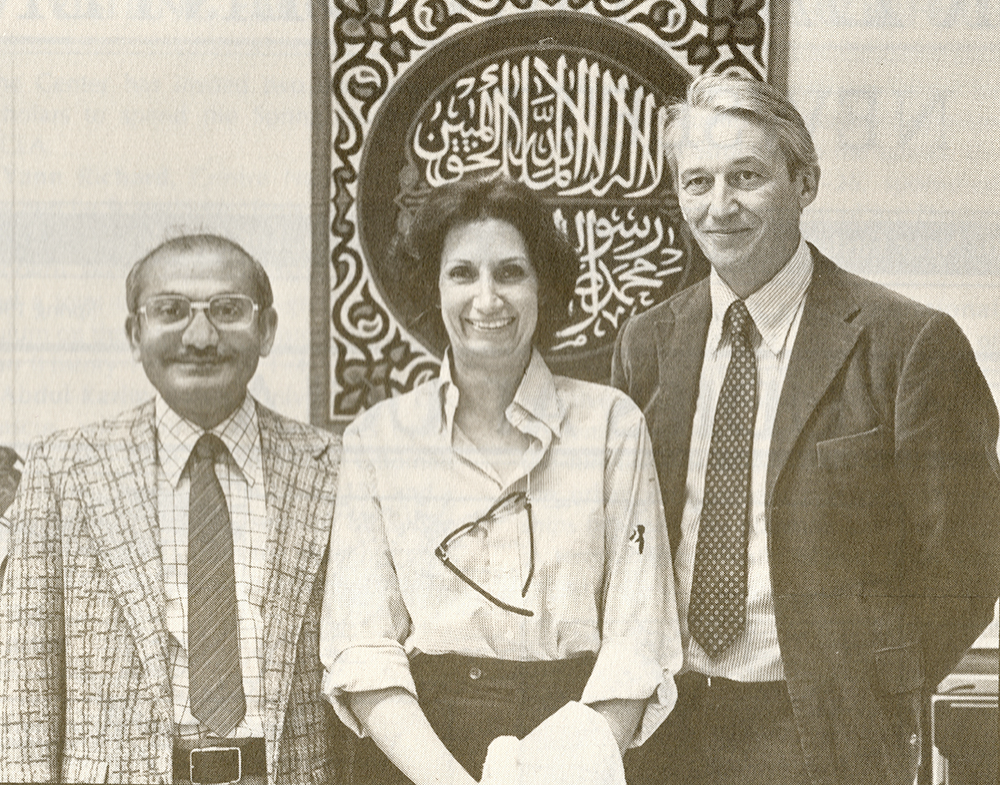 UCLA Center for Near Eastern Studies
A 1984 photo of now-retired professor Thomas Penchoen (right), who taught Berber (Amazigh) studies at UCLA between 1968 and 1993, with now-emeriti professors Ismail Poonawala (left) and Afaf Marsot. 
---
Robert Lemelson, an adjunct professor and researcher in the UCLA Department of Anthropology as well as an alumnus of the department, is a longtime supporter of initiatives within the UCLA College through the Robert Lemelson Foundation.
"One of the central goals of anthropology is to explore, explain, support and honor diverse cultures and traditions," Lemelson said. "It is my distinct honor to support such a crucial area of study. Dr. El Guabli and Dr. Boum are both senior scholars who are creative, productive and perfectly suited for this task, and I congratulate them for their leadership and vision."
Boum and El Guabli will run the project in partnership with the UCLA Center for Near Eastern Studies and will use the funding to develop a suite of materials, including a language textbook, various translation projects and an online journal. They will also work to establish scholarly relationships with universities in North Africa, building on UCLA's existing initiatives to foster connections with institutions throughout the region.
The initial goal, Boum said, is to produce a body of Amazigh studies material that scholars across the U.S., Europe and North Africa will be able to use in their classrooms. Laying that groundwork, he said, will make it possible to develop a UCLA program in Amazigh studies — and one day perhaps expand its offerings to include language courses in Tamazight, the language of the Amazigh people, as well as undergraduate study abroad opportunities in North Africa for students learning the language.
"The Amazigh Studies Program Fund will position UCLA as a mecca for North African studies," Boum said. "Thanks to this generous gift, we will have the opportunity to significantly grow our faculty's expertise and inspire a new generation of students who are interested in these topics, the knowledge of which they will carry into their future lives and careers."
Designated as an endangered language by UNESCO in 2010, Tamazight is spoken today by some 14 million North Africans, primarily in Morocco. In the 1960s, UCLA became the first university in the U.S. to offer Tamazight language courses, which remained scarcely taught in schools worldwide throughout the 20th century, but these offerings were cut in the 1990s due to flagging resources.
Recent decades have seen renewed global interest in preserving and studying Amazigh language, history and culture, gaining further momentum following the designation of Tamazight as an official language of Morocco alongside Arabic.
"I am not exaggerating when I say that this is the single most transformative gift made to Amazigh language and culture in 60 years," El Guabli said. "With this generous gift, the field will not only finally be articulated, but the scholars, students and lay readers participating in it will have enough resources to fully apprehend the complexity of Tamazgha, or North Africa."
The Robert Lemelson Foundation, established by Robert Lemelson in 2010, is dedicated to improving global mental health and well-being through education and knowledge and seeks to promote social and economic growth in the U.S. and developing countries. Through the foundation, Lemelson has established the UCLA Indonesian Studies Program and the Lemelson Anthropological Honors Program as well as supported the Study of Black Life and Racial Inequality Program at UCLA, among many other initiatives.