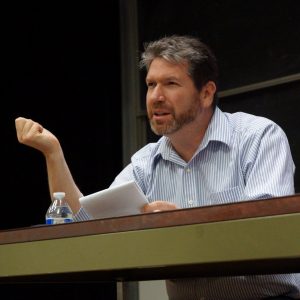 Thursday, February 4, 2021 
Los Angeles—Today, the National Endowment for the Arts announced that Michael Berry will receive a Literature Translation Fellowship of $12,500 to translate Soft Burial (Ruan mai) by Fang Fang into English. Michael Berry is one of 24 Literature Translation Fellows selected for fiscal year 2021. In total, the Arts Endowment will award $325,000 in grants to support the translation of works written in 16 different languages into English.
"Supporting literary translation not only means that many of the world's talented writers reach a new audience, but also new and different perspectives and experiences are made available to readers in this country," said Amy Stolls, director of literary arts at the National Endowment for the Arts. "The Arts Endowment is proud to continue its long history of supporting the art of translation through these 24 fellowships."
Soft Burial is a work of historical fiction by Fang Fang. Fang Fang (b. 1955), the pen name for Wang Fang, who is best known as the author of Wuhan Diary (2020), which was also translated by Berry. Fang Fang spent most of her childhood in Wuhan and remains one of China's most prolific writers, with nearly 100 different published editions of her novels, novellas, short stories, and essays. A Soft Burial is generally considered her most important novel of the last 20 years and won the Lu Yao Literature Award after its publication in 2016. It begins with a mysterious protagonist without a name who, decades earlier, was pulled from a river in a state of near-death with a wiped-clean memory. The narrative follows her journey to recovery and the discovery that, as victims of the Land Reform Movement, her entire family was killed and her husband's family died by mass suicide, their bodies given a "soft burial"—haphazardly buried without a casket. The French edition of Soft Burial was recently awarded the Émile Guimet Prize for Asian Literature. This novel has never before appeared in English.
Michael Berry is a translator, author, and director of the Center for Chinese Studies and professor of contemporary Chinese cultural studies at the University of California, Los Angeles. A previous National Endowment for the Arts Translation Fellow, Berry's book-length translations include The Song of Everlasting Sorrow: A Novel of Shanghai by Wang Anyi, shortlisted for the Man Booker International Prize, and To Live by Yu Hua, a selection in the National Endowment for the Arts Big Read library.
Since 1981, the NEA has awarded 528 fellowships to 467 literary translators, with translations representing 74 languages and 88 countries. Click here for the full list of fiscal year 2021 Literature Translation Fellowships.
Visit arts.gov to browse bios, artist statements, and writing excerpts from a sample of past Literature Fellows in Translation.