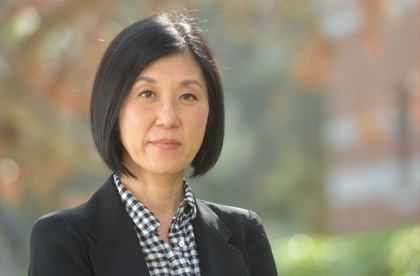 Miwon Kwon (Photo credit: ©Todd Cheney, 2015)
Internationally renowned scholar and curator of contemporary art Miwon Kwon has been named the inaugural Walter Hopps Chair in Modern and Contemporary Art in the Department of Art History of the UCLA College.
A UCLA faculty member since 1997, Kwon is a professor of art history and chair of the department whose research draws upon her training in architecture, urban studies, and contemporary art to explore the "space/spatial politics" of art.
David Schaberg, senior dean of UCLA College and dean of humanities, said, "Miwon Kwon is an exceptional, highly accomplished scholar whose work has had a major impact in her field. Her appointment to The Hopps Chair is a well-deserved celebration of her scholarly achievements and of her intellectual leadership at UCLA and beyond."
Kwon is the author of One Place After Another: Site-Specific Art and Locational Identity (MIT Press, 2002) and co-curator of the major museum exhibition Ends of the Earth: Land Art to 1974.  The accompanying catalogue earned her the Alfred Barr Award from the College Art Association for the most distinguished catalogue in the history of art in 2013. She holds a Ph.D. in Architectural History and Theory from Princeton University.
"Given the singular importance of Walter Hopps in the history of modern and contemporary art, especially in Los Angeles, I am deeply honored to be the inaugural holder of a faculty chair in his name," Kwon said. "This endowment promises invaluable support for expanding research opportunities that will have long-term impact on the study of art history at UCLA and beyond."
The Walter Hopps Chair in Modern and Contemporary Art was established in 2020 by a gift from the estate of Jean Stein, eldest daughter of Jules and Doris Stein (namesake of the UCLA Stein Eye Institute). Stein, who died in 2017, was a bestselling author, arts patron and editor of the literary quarterly Grand Street. The chair established by her estate is named for her friend, influential art dealer and museum curator Walter Hopps, who was instrumental in bringing the first generation of postwar Los Angeles artists to international prominence. Throughout her career, Stein regularly crossed paths with other luminaries, writers and intellectuals such as Edward Said, Joan Didion and John Kenneth Galbraith.