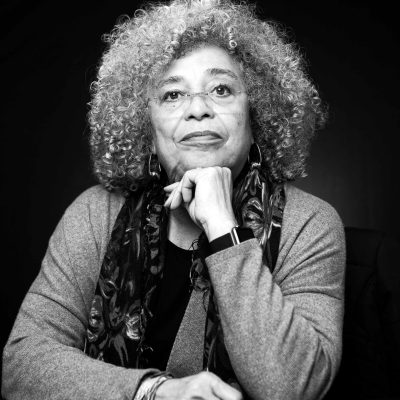 Courtesy of the UCLA Comparative Literature Website
By Anushka Chakrabarti
Angela Davis, internationally celebrated author, scholar and activist, delivered the second annual Edward W. Said Lecture in the UCLA Department of Comparative Literature on April 14.
Davis, a distinguished professor emerita at UC Santa Cruz and a former UCLA professor of philosophy, is renowned for her decades-long commitment to social justice movements around the world. Her lecture, "International Solidarity in the Era of Black Lives Matter and Justice for Palestine," was delivered virtually to more than a thousand audience members in the UCLA community and beyond.
"Contemporary racism — whether against Black, Latinx, Indigenous communities, or Asian American communities — incorporates and builds on global Islamophobia," Davis said. "Solidarity with Palestine has taught us that we are all responsible for the future of the world."
The event was moderated by Shu-mei Shih, UCLA's inaugural Edward W. Said Professor of Comparative Literature, who founded the annual lecture series. The endowed professorship was established in honor of Said, a Palestinian American activist and prominent scholar of comparative literature, and made possible by a gift from the estate of Jean Stein, an author, arts patron and editor who admired his work.
"My remarks today emanate not so much from field-specific concerns, but rather from a desire to identify with Said's lifelong commitment to justice for Palestine, and to understand in a broader sense the subjugated histories that have brought us this far," Davis said. Her lecture was followed by a Q&A session moderated by Shih.
Davis, Shih noted, has a long history with UCLA. Hired as an acting assistant professor in 1969, she was fired by the UC Board of Regents because she was a member of the Communist Party. Forty-five years later, in May 2014, Davis returned to UCLA to teach a graduate seminar, "Critical Theory and Feminist Dialogues," as a Regents' Lecturer. In her current work, she continues to focus on communities impacted by injustice around the world.
"Dr. Davis' activism has taken the notion of intersectionality from those of such social categories as race, gender, class and sexuality to the global arena, into what she calls 'international intersectionality,'" Shih said.
In addition to lecturing widely and publishing numerous articles and essays, Davis is the author of more than 10 books, including classics such as "Women, Race and Class" and her most recent book, "Freedom Is a Constant Struggle: Ferguson, Palestine, and the Foundations of a Movement."
Visit the UCLA Department of Comparative Literature's website to watch a recording of Angela Davis' lecture, "International Solidarity in the Era of Black Lives Matter and Justice for Palestine," and the Q&A session that followed.