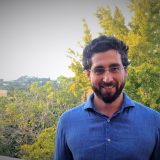 By: Megan Reusche
On January 5, 2019, Assistant Professor of Italian Andrea Moudarres received the twenty-first annual Aldo and Jeanne Scaglione Publication Award for a Manuscript in Italian Literary Studies from the Modern Language Association of America.
Moudarres accepted his award at the annual convention in Chicago in front of thousands of attendees for his book, The Enemy in Italian Renaissance Epic: Images of Hostility from Dante to Tasso. In this work, Moudarres explores the question of violence, enmity and the representation of the enemy in influential works like Dante's Divina Commedia, Luigi Pulci's Morgante, Ludovico Ariosto's Orlando Furioso, and Torquato Tasso's Gerusalemme Liberata.
The committee's citation on Moudarres' manuscript states:
"Andrea Moudarres's The Enemy in Italian Renaissance Epic: Images of Hostility from Dante to Tasso is an eloquent and original account of the Renaissance epic tradition in Italy. Using an impressive array of sources across a variety of philosophical and literary traditions, Moudarres allows different voices to come into conversation around the notion of civil strife. The result is not only a brilliant account of the political stakes of how we read Ariosto and Tasso, among others, but also a welcome intervention in the contemporary moment, when conflict often seems to be the linchpin of political life. Both erudite and highly accessible, this study is an outstanding contribution to Renaissance studies and to wider discussions of the relation of conflict to how we live together."
We congratulate Moudarres on this incredible achievement and applaud his hard work that brings academic honor to our UCLA community.
Link to Full Press Release Can be Found Here: https://forms.mla.org/SCE-Press-Release.pdf