"You Imagine Me, and I Exist:" The Afterlives of Sor Juana Inés de la Cruz (1648-1695)
Nov 22, 2019
-
Nov 23, 2019
Royce Hall 314,
10745 Dickson Ct




Los Angeles

,

CA

90095

United States
+ Google Map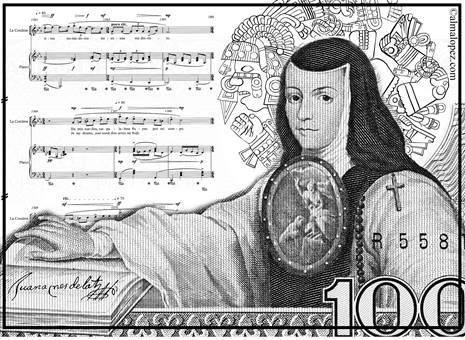 This symposium explores the multiple "afterlives" of Sor Juana, i.e., the many ways in which the famous/infamous nun has been represented – from 17th- and 18th-century visual and literary portraits to 20th- and 21st-century historical novels, poetry, plays, films, musical performances, visual arts, and even a Netflix mini-series. The title of the symposium, 'You Imagine Me, and I Exist,' comes from the English translation of an unfinished poem that was found in Sor Juana's cell after her death in 1695 (proving that she never stopped writing). It was addressed to her supporters in Spain, and she was thanking them for "breathing another spirit into [her]," that is, giving her work new life by representing her, not as she was – a nun struggling (as she put it) to "learn more [and] be ignorant about less" – but as they wanted to imagine her: a great intellectual, a sublime poet, a phoenix rising from the ashes.
Designed for the campus community, particularly students and faculty of the Herb Alpert School of Music, and those in the divisions of Social Sciences and Humanities, as well as the broader Los Angeles community, this is a great opportunity to listen to music produced in colonial Mexican convents and learn about the life, history, and culture of Sor Juana Ines de la Cruz.
Presented by the UCLA Center for Musical Humanities, UCLA Chicano/a Studies, and UCLA LGBTQ Studies.
For more information, visit: https://schoolofmusic.ucla.edu/resources/center-for-musical-humanities/you-imagine-me-and-i-exist-the-afterlives-of-sor-juana-ines-de-la-cruz/