Works-in-Progress session: "Early Modern Multiplicities"
Mar 1, 2022 @ 12:00 pm
-
1:00 pm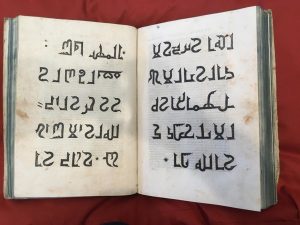 Given by Carina Johnson (Professor of History, Pitzer College and Extended Faculty, Claremont Graduate University) and Ayesha Ramachandran (Associate Professor, Comparative Literature and Chair of the Program in Renaissance Studies, Yale University)
Respondent: Lisa Voigt (Professor of Spanish and Portuguese, The Ohio State University)
This session presents a collaborative experiment in cross-disciplinary engagement: Johnson, a historian, and Ramachandran, a literary scholar, explore new theoretical futures for studies of the "global early modern." Drawing on their recent publication of a guest-edited special issue of Modern Philology, "Multiplicities: Recasting the Early Modern Global," they expand that introduction into a more robust framework for "multiplicities."
The global turn in early modern studies is well-established: studies of contact zones, entanglements, and connected histories have revealed networks and circulations across previously segregated spatial arenas. Scholarship on racialization, de-centered empire, religious conflict, and cross-cultural engagements has generated conversations among scholars once isolated in distinct regional and national-literary frameworks. And hitherto untapped archives and sources are being deployed in new narratives about globalization's articulations. However, this turn has also precipitated methodological and theoretical questions—specifically, those focused on intersectional experience and efforts to move beyond the now-familiar binaries of periphery/center, colony/metropole, local/global.
Carina Johnson is Professor of History at Pitzer College and Extended Faculty at Claremont Graduate University. She is the author of Cultural Hierarchy in Sixteenth-Century Europe: The Ottomans and Mexicans (2011) and co-editor of Archeologies of Confession: Writing the German Reformation, 1517–2017 (2017). Her current research projects include Homefront Experiences of the Habsburg-Ottoman Wars, 1470–1620, an exploration of the cultural consequences of war and violence in the sixteenth-century Habsburg Empire, and the early modern European use of identity markers prior to the concept of biological race.
Ayesha Ramachandran is Associate Professor of Comparative Literature and Chair of the Program in Renaissance Studies at Yale University. Her first prizewinning book, The Worldmakers (University of Chicago Press, 2015) provides a cultural and intellectual history of "the world," showing how it emerged as a cultural keyword in early modernity. Her current projects range from new research on early modern and contemporary South Asia to work in comparative philology, cartography, oral history, and lyric studies. Her new book manuscript in progress is tentatively entitled, Lyric Thinking: Towards a Global Poetics.
Lisa Voigt is Professor of Spanish and Portuguese at The Ohio State University, and was recently a Visiting Professor at Yale University (Autumn 2021). She is the author of Writing Captivity in the Early Modern Atlantic: Circulations of Knowledge and Authority in the Iberian and English Imperial Worlds(2009) and Spectacular Wealth: The Festivals of Colonial South American Mining Towns (2016). Her current research projects include a co-authored book, with Elio Brancaforte and Stephanie Leitch, provisionally entitled "The Epistemology of the Copy in Early Modern Travel Narratives" and supported by an ACLS Collaborative Fellowship (2019–2022). She is also a member of the international research team of Public Rituals in the Portuguese Empire.
Image:  From Tommaso Fazello, De rebvs sicvlis decades dvae… (Palermo, 1560). Courtesy of the Beinecke Rare Book and Manuscript Library, Yale University.
This event is free of charge, but you must register to attend in advance. All audience members will receive instructions via email after registration. Visit the website for registration information.