Ute Heidmann: "Differential, Dialogical, and Plurilingual Comparativism"
Apr 25, 2022 @ 12:00 pm
-
1:00 pm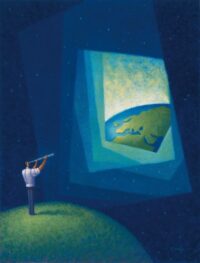 CLICK HERE TO REGISTER
About the Lecture
Differentiation denotes the process that relates the same to the different instead of opposing them. The evolution of all languages, literatures, and cultures seems to be underlain by such a complex process of differentiation. In order to explore this complex process, I developed a comparative method applying the mental operation of differentiation to poetical and other discursive and cultural practices instead of universalizing them. This type of heuristic comparativism demands that we "construct the comparables," as Marcel Detienne claimed, and to reflect on the criteria and axes of comparison that must be of equal relevance for the objects and phenomena to be compared. Differential comparativism does not lead to the discovery of irreducible differences, but enables us to realize that most poetical, discursive, and cultural practices evolve in the mode of a constitutive and creative dialogue with other languages, literatures, and cultures.
About the Speaker
Ute Heidmann has held the Chair of Comparative Literature at University of Lausanne since 2001. She is also a Visiting Professor at the European Institute of Geneva; University and IUSS of Pavia; Fondazione San Carlo (Modena); Universidade Federal do Rio Grande do Norte (Brazil); EHESS and Université de Sorbonne (Paris); and several universities in Spain and Germany. She founded and directs the International Research Group CLE (Comparer les Littératures en langues Européennes), edits the Collection du CLE (e.g., Mythes (re)configures. Création, Dialogues, Analyses, cf. www.unil.ch/lleuc). Her research fields include Epistemology and Methodology of Human Sciences and Interdisciplinarity and Comparison, namely the method she elaborated and defined as "Differential, Dialogical, and Plurilingual Comparison." The heuristic efficiency of this method has been employed in detailed comparative analyses of ancient and modern "configurations, (re)configurations and rewritings of Greek and Roman myths" before being applied to a large corpus of written Latin, Italian, French, German, Danish, and English tales analyzed in their original languages. "Differential, dialogical, and plurilingual comparison" is also applied to other literary, discursive, and cultural practices, including autobiographical, historical, and travel writings and icono-textual and plurilingual practices such as translation. The full list of her published works may be found on the University of Lausanne website.
Click

here

to download a PDF of the flyer for this lecture.