UCLA Experimental Humanities workshop on "Humane Infrastructures"
Mar 9, 2020 @ 12:00 pm
-
Mar 10, 2020 @ 5:00 pm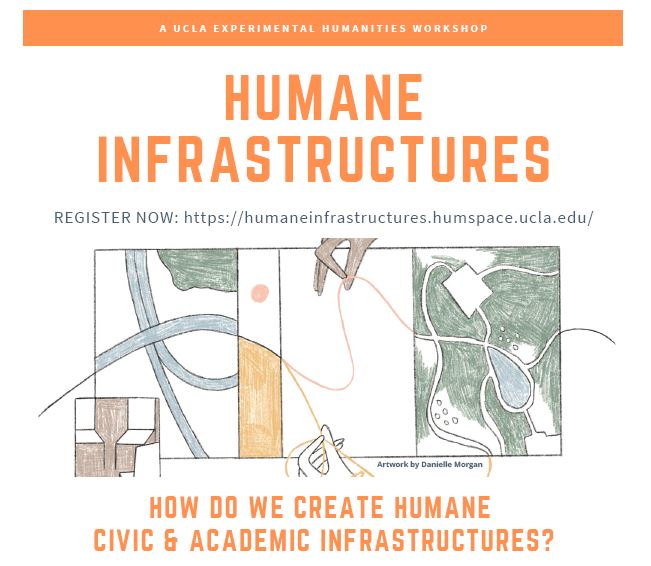 UCLA Experimental Humanities workshop on "Humane Infrastructures"
Humane Infrastructures brings together 25 leading scholars, experts,
artists, university administrators, politicians, and community
members to consider and outline how we can build
human/humanities-driven capacity to collaboratively critique,
imagine, design, and build civic and academic infrastructures at scale.

The Program will be structured around:
Major challenges (such as homelessness, climate change) and
themes (such as AI, 'smart' cities, the quantified human, online
platforms, the academic lifeworld, innovation logic)
A toolbox (including critical making, designing for difference,
algorithmic intervention, terraforming, mutualistic systems design,
and staying with the trouble)
A set of concrete examples and theoretical issues.
Date: March 9 (from 12 pm-6pm) & March 10 (from 9am-5pm)
Location: UCLA (visit event website for more information and registration)
Registration is free and all are welcome!
Seating is limited, so please sign up as soon as possible.
Register Now: https://humaneinfrastructures.humspace.ucla.edu/