Thinking fast and slow in the Renaissance: Art meets Science by Dr. Francis Wells
Jan 31, 2018 @ 5:30 pm
-
6:30 pm
Royce Hall 236,
10745 Dickson Court




Los Angeles

,

CA

90095
+ Google Map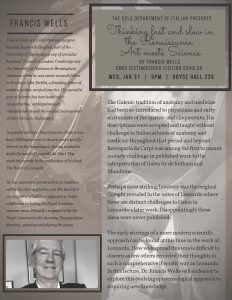 The Galenic tradition of anatomy and medicine had been re-introduced to physicians and early anatomists of the quatro- and cinquecento. His descriptions were accepted and taught without challenge in Italian schools of anatomy and medicine throughout that period and beyond. Berengario da Carpi was among the first to mount an early challenge in published work to the interpretation of Galen by de Ketham and Mundinus.
Perhaps most striking however was the original thought revealed in the notes of Leonardo where there are distinct challenges to Galen in Leonardo's later work. Disappointingly these ideas were never published.
The early stirrings of a more modern scientific approach can be found at this time in the work of Leonardo. How widespread this was is difficult to discern as few others recorded their thoughts in such a comprehensive if erratic way as Leonardo. In this lecture, Dr. Francis Wells will endeavour to explore this evolving epistemological approach to acquiring new knowledge.