The Sultan's Communists: Moroccan Jews and the Politics of Belonging – Alma Rachel Heckman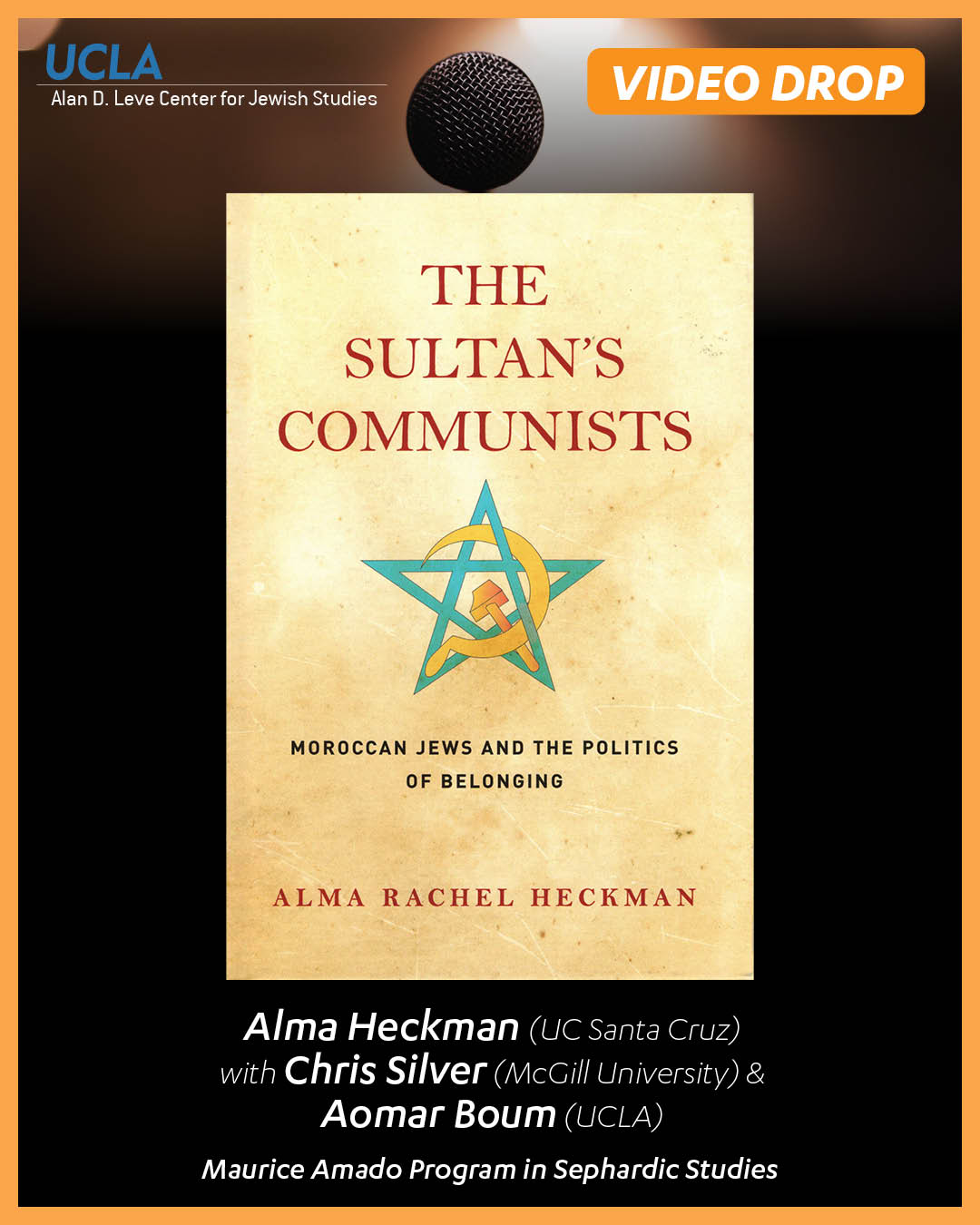 Alma Rachel Heckman (UC Santa Cruz) with Chris Silver (McGill University) and Aomar Boum (UCLA)
The Sultan's Communists: Moroccan Jews and the Politics of Belonging
Facebook: https://www.facebook.com/UCLACJS/​​​
Website: https://www.levecenter.ucla.edu/​​​
Instagram: https://www.instagram.com/uclalevecenter
Maurice Amado Program in Sephardic Studies
The Sultan's Communists uncovers the history of Jewish radical involvement in Morocco's national liberation project and examines how Moroccan Jews envisioned themselves participating as citizens in a newly-independent Morocco. Closely following the lives of five prominent Moroccan Jewish Communists (Léon René Sultan, Edmond Amran El Maleh, Abraham Serfaty, Simon Lévy, and Sion Assidon), Alma Rachel Heckman describes how Moroccan Communist Jews fit within the story of mass Jewish exodus from Morocco in the 1950s and '60s, and how they survived oppressive post-independence authoritarian rule under the Moroccan monarchy to ultimately become heroic emblems of state-sponsored Muslim-Jewish tolerance. The figures at the center of Heckman's narrative stood at the intersection of colonialism, Arab nationalism, and Zionism. Their stories unfolded in a country that, upon independence, from France and Spain in 1956, allied itself with the United States (and, more quietly, with Israel) during the Cold War, while attempting to claim a place for itself within the fraught politics of the post-independence Arab world. The Sultan's Communists contributes to the growing literature on Jews in the modern Middle East and provides a new history of twentieth-century Jewish Morocco.
Alma Rachel Heckman is the Neufeld-Levin Chair of Holocaust Studies and an Assistant Professor of History and Jewish Studies at the University of California, Santa Cruz. She specializes in modern Jewish history of North Africa and the Middle East with an interest in citizenship, political transformations, transnationalism, and empire. Her first book is The Sultan's Communists: Moroccan Jews and the Politics of Belonging (Stanford University Press, 2021). Additionally, she is working on a co-edited volume examining Jews in radical politics in a comparative framework. She has held fellowships with Fulbright, the United States Holocaust Memorial Museum, and the Katz Center for Advanced Judaic Studies at the University of Pennsylvania and has published her work in a number of journals and edited volumes.
Christopher Silver is the Segal Family Assistant Professor in Jewish History and Culture in the Department of Jewish Studies at McGill University. He earned his PhD in History from UCLA. He is the author of numerous articles on history and music in North Africa, including most recently in the International Journal of Middle East Studies.