The Manuscripts of Reginald Pecock
Mar 11, 2019 @ 12:00 pm
-
1:00 pm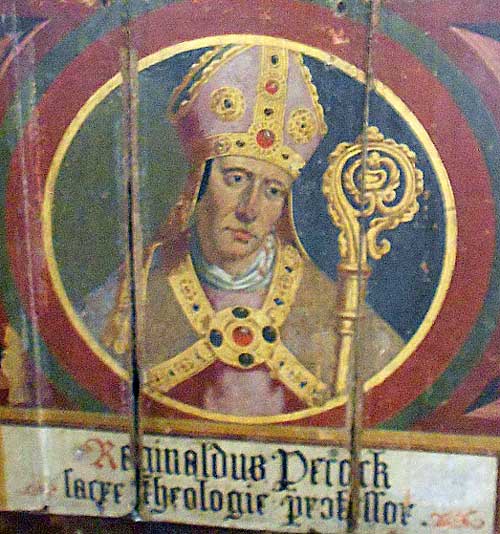 CMRS Roundtable
Bishop Reginald Pecock (d. ca. 1459) actively wrote for over thirty years of his life, from his mid-thirties when he left university until his mid-sixties when he was confined at Thorney Abbey and deprived of his writing instruments in the aftermath of his conviction of heresy. From this period, we have only five books remaining. This roundtable, however, is not about what survives. Rather, it is about the more than forty books that we know he had written—Pecock engaged in extensive self-citation—but  were subsequently lost to the fires of censorship and the vagaries of time.
This roundtable is given by Jennifer A.T. Smith, Assistant Professor of English and Coordinator of Digital Humanities at Pepperdine University. She earned her BA from the University of California, Berkeley and both her MA and PhD from the University of California, Los Angeles. Professor Smith is also currently serving as a Councilor with the Medieval Association of the Pacific. Prior to joining the Pepperdine faculty in 2014, she taught at her graduate alma mater, as well as at Occidental College and Mount St. Mary's College. In her research, Professor Smith works on the intersection of language and learning in late medieval England with an emphasis on the theological writings of the reformist educator, Bishop Reginald Pecock. This research contributes to a deeper historical and theological understanding of the universal Christian educational imperative implicit in the language of the New Testament commandment to "love your neighbor as yourself."
Please click this link to register and let us know you are attending. No fee. Limited seating. Self-pay parking in lots 2, 3, and 4. Parking information at main.transportation.ucla.edu/campus-parking/visitors
Funding for CMRS Roundtables is provided by the Armand Hammer Endowment for the UCLA Center for Medieval & Renaissance Studies.