The Comic Supernatural
Apr 21, 2017
-
Apr 22, 2017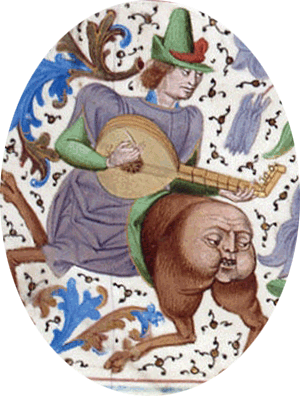 CMRS Conference
The tropes are as well-known as they are myriad. Deals with the devil. Hell running short of guests, or being robbed of its prey. Heaven dispatching angels to save individuals from their own folly. Ghosts and goblins shaking mortals from their mundane complacency. Gods and goddesses from various pantheons trying on human guise. Witches, genies, and sundry monsters rattling their cages, to the consternation of those in their presence. In the course of each scenario, accidents happen, mistakes are made, the bumpiest road is chosen, an unforeseen twist occurs. And hilarity ensues….
If humanity's fascination with the marvelous is ancient, a humorous toying with the fantastic appears to be equally as venerable. A supernatural through-line-cum-punch line threads through lore from Balaam's talking donkey in the Bible, through folk tales and bawdy medieval fabliaux, to Japanese kyogen plays and the Golden Age TV sitcom.
This conference, organized by Sharon King, will explore humanity's encounters with the supernatural as evoked through comedy and how we understand these encounters in a variety of genres and disciplines from around the world both old and new.
Friday, April 21, 2017 in Royce Hall Room 314
8:30
Registration, coffee, pastries
9:00
Welcoming Remarks
Massimo Ciavolella (CMRS Director, UCLA)
Sharon King (Conference Organizer, CMRS Associate)A Media Montage of Supernatural Humor, Part I
Session I – Chair: Jean-Claude Carron (UCLA)
9:30
Edith Hall (King's College, London)

"The Politics of the Supernatural in Aristophanic Comedy"

10:15
Break
10:30
Michael Solomon (University of Pennsylvania)
"Comedy and Cruelty: Marian Masochism in Alfonso X's Cantigas de Santa Maria"
Leif Søndergaard (University of Southern Denmark)
"In The Name of the Laughter: Forgotten Images from the 14th Century in Southern France"
12:00
Lunch Break
Session II – Chair: Kersti Francis (UCLA)
1:30
Joseph F. Nagy (UCLA)
"Satire, Vision, and the Irish Cockaigne"
Albrecht Classen (University of Arizona)
"And they laughed after all: Comedy on the Late Medieval German Stage"
3:00
Break
3:15
Faye Ringel (United States Coast Guard Academy, Emerita)
"Laughter Through Tears: Jewish Traditions of Golems, Demons, Fools"
4:00
Break
4:15
A Play, Saint Martin and the Peasant
Presented by Les Enfans Sans Abri, based on a 13th-century fabliau
Saturday, April 22, 2017 in UCLA Royce Hall Room 314
8:30
Registration, coffee, pastries
9:00
A Media Montage of Supernatural Humor, Part II
Session III – Chair: Ian Moulton (Arizona State University)
9:15
Zack Davisson (Independent Scholar)
"Kappa Farts and Tanuki Balls: Supernatural Humor in the Art of the Floating World"
Clorinda Donato (California State University, Long Beach)
"'He takes his followers beyond the limits of the known': The European Reception of Carlo Gozzi's Comic Supernatural in the Late Eighteenth Century"
10:45
Break
Session IV – Chair: Gail Lenhoff (UCLA)
11:00
Ronald Vroon (UCLA)
"Satire and the Supernatural in Mikhail Bulgakov's The Master and Margarita"
Stacie Hanes (Youngstown State University)
"Esme Weatherwax's Journey, Passing, and Lifelong Intimacy with Death"
12:30
Lunch Break
2:00
A Play, The Knight of Enchantment
Presented by Les Enfans Sans Abri, based on a medieval fabliau
3:00
Break
Session V – Chair: Sharon King (UCLA)
3:15
Isabella van Elferen (Kingston University London)
"'Smile If You Love Sadness': The Dark Delights of Gothic Irony"
Sherryl Vint, (University of California, Riverside)
"Metafiction, Comedy, and the Cultural Work of Speculative Television"
4:45
Concluding Remarks
Advance registration not required. No fee. Limited seating.
Self-pay parking in lots 2, 3, 4, and 5. More parking information at
https://main.transportation.ucla.edu/campus-parking/visitors
This program is online at cmrs.ucla.edu/event/the-comic-supernatural/
Image from Chroniques de Jehan Froissart
Support is provided by the Endowment for the UCLA Center for Medieval & Renaissance Studies.