Succeeding in your PhD
Lydeen Library, Rolfe Hall 4302,
345 Portola Plaza
Los Angeles
,
90095
United States
+ Google Map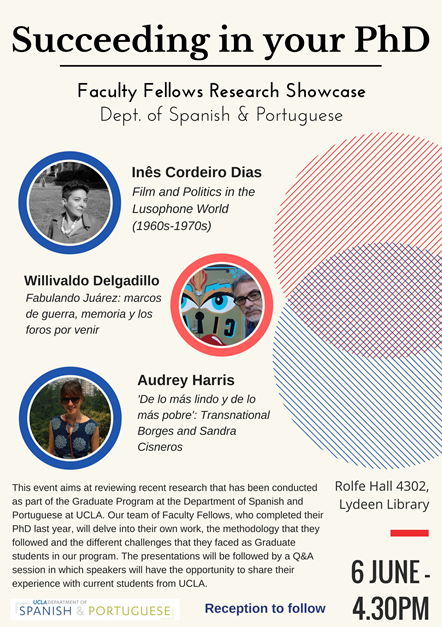 We are pleased to invite you to attend a 'hands-on' session with our current Faculty Fellows, who will speak about their research, with a focus on their PhD dissertations, which they defended last year. This event is organized for Graduate Students pursuing both Master's and PhD degrees at the Department of Spanish and Portuguese, and it aims at reviewing recent research that has been conducted as part of the Graduate Program here. In order to exemplify this, our team of Faculty Fellows will delve into their own work, the methodology that they followed and the challenges faced as students in our program. Not only will they speak about their own topic; but, most importantly, they will share what they experienced during their time at UCLA: ranging from 
do's and don'ts
before your Master exams to how to re-write your prospectus and tips on preparing for your thesis defense, so this event will be useful for
students at all stages of the Graduate program
. 
The presentations will be followed by a Q&A session with Graduate students, so our speakers will be happy to answer any questions you may have.