The Short Peace Beyond the Line: Europe and the World, 1595–1620, DAY 1
Jan 20 @ 9:00 am
-
5:00 pm
Huntington Library, Smith Board Room,
1151 Oxford Road




San Marino

,

CA

91108

United States
+ Google Map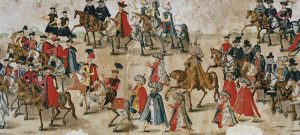 –conference co-sponsored by the Arts and Humanities Research Council (UK), University of Birmingham, USC-Huntington Early Modern Studies Institute, UCLA Center for 17th- & 18th-Century Studies, and UCLA William Andrews Clark Memorial Library

Between 1598 and 1618, a series of interlocking treaties and truces brought peace to Europe. The Civil Wars in France, the Anglo-Spanish war, the Dutch rebellion, even the so-called "Long War" between the Habsburgs and the Ottomans, were temporarily, if not definitively, settled. Peace in Europe transformed the context of overseas commercial, religious, and imperial enterprises: Portuguese merchants found themselves facing Dutch competition in the Indian Ocean; the Spanish saw sustained attempts by other powers to establish colonies in the Americas; while Italian Jesuits and Castilian Franciscans clashed over missionary activities in Japan. This was not merely a geographic enlargement of existing competition: rather, relations between Europe and the wider world transformed both. Indeed, the 'Short Peace' in Europe was also an era of deepening global contacts between Europe and the rest of the world. While his predecessor celebrated his role as a European peacemaker, for Pope Paul V (1605–1621), the outstanding achievement of his pontificate (depicted in the Sala Regia of the Quirinale Palace) was the arrival of eight embassies from African and Asian polities. This conference examines the changing relations between Europe and the wider world during the era of the 'Short Peace'. It asks: how were existing forms of imperialism and global contact altered by the emergent peace? And how did the global connections help reinforce or undermine the peace itself?
You can find a full schedule of speakers and topics on our website
For questions about this conference, please contact the
USC-Huntington Early Modern Studies Institute at
emsi@dornsife.usc.edu.
This event is free of charge, but you must book in advance to attend. All attendees will receive instructions via email after registration. Bookings close on Monday, January 16, 2023 at 5:00 p.m.