Research and Creative Opportunities for UCLA Spanish and Portuguese Majors
Feb 4, 2021 @ 3:00 pm
-
4:00 pm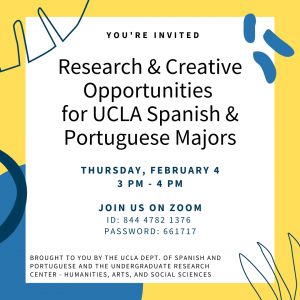 Join us this Thursday at 3 pm for our Undergraduate Research Opportunities workshop with the UCLA Undergraduate Research Center – see attached the flyer for Zoom info.
Why engage in academic research?
To prepare you for Graduate school
To Enhance your resume/CV
To make you a competitive applicant for Grad school and the job market
Study and develop a topic of your own interest
Develop critical thinking and strengthen your information analysis skills
Cultivate your personal academic interests by developing a topic that you enjoy and more!
We will hear from Representatives from the UCLA Undergraduate Center on all the great and rich research opportunities available to you.
All students in the Department are encouraged to attend!
To download flyer, please click here!