Print, Play, Mobility
May 13, 2021 @ 12:00 pm
-
1:30 pm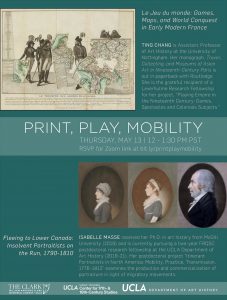 Presented by Ting Chang (University of Nottingham) and Isabelle Masse (University of California, Los Angeles)
The event is organized by Professor Bronwen Wilson and moderated by Professor Zirwat Chowdhury, UCLA Department of Art History.
This event is free of charge, but you must register to attend in advance. All registrants will receive instructions via email after registering. Click hereto register.
This discussion focused on Print, Play, Mobility will feature talks by Ting Chang, Assistant Professor at the University of Nottingham, and Isabelle Masse, FRQSC Postdoctoral Research Fellow in the UCLA Department of Art History.  Drs. Chang and Masse will each give a brief talk on their respective research, followed by open discussion about their work and early modern print practices. This event is hosted by the UCLA Department of Art History, Center for 17th– & 18th-Century Studies and William Andrews Clark Memorial Library.
Le Jeu du monde: Games, Maps, and World Conquestin Early Modern France
Ting Chang is Assistant Professor of Art History at the University of Nottingham. Her monograph, Travel, Collecting, and Museums of Asian Art in Nineteenth-Century Paris,is out in paperback with Routledge. She is the grateful recipient of a Leverhulme Research Fellowship for her project, "Playing Empire in the Nineteenth Century: Games, Spectacles and Colonials Subjects."
Fleeing to Lower Canada: Insolvent Portraitists on the Run, 1790-1810
Isabelle Masse received her Ph.D. in art history from McGill University (2019) and is currently pursuing a two-year Fonds de recherche du Québec – Société et culture (FRQSC) postdoctoral research fellowship at the UCLA Department of Art History (2019–21). Her postdoctoral project "Itinerant Portraitists in North America: Mobility, Practice, Transmission, 1776–1812" examines the production and commercialization of portraiture in light of migratory movements.