Pourdavoud Center Lecture Series: Anne Hunnell Chen
Feb 15 @ 4:00 pm
-
6:00 pm
314 Royce Hall,
10745 Dickson Plaza




Los Angeles

,

CA

90095

United States
+ Google Map
Dislodging Disciplinary Silos at Dura-Europos
Founded by the Seleucids, successively occupied by the Arsacids (Parthians) and Romans, and spectacularly conquered in a Sasanian siege, the borderland town of Dura-Europos (Syria) was home throughout its history to a fascinatingly diverse population. Since its initial excavation, the site has become justly famous thanks to unique circumstances of preservation that resulted in the site's retention of significant organic materials and other traces of daily life long-vanished elsewhere. Together, the multiethnicity and significance of the site's finds make it a rare (and invaluable) archaeological resource that transcends modern disciplinary boundaries. And yet, the site and its important archaeological resources have been too often considered the purview of 'Western' disciplines, despite the fact that the site's Arsacid occupation was indeed its longest phase. This talk will first explore how the original excavators' choices with regard to data-processing and publication strategies have had an enduring impact on who mobilizes Durene data and to what intellectual ends. It will then turn to introduce the efforts of the International (Digital) Dura-Europos Archive (IDEA), a project recently funded by the NEH and designed to help cut across the disciplinary silos that still very much shape research on the site.
About the Speaker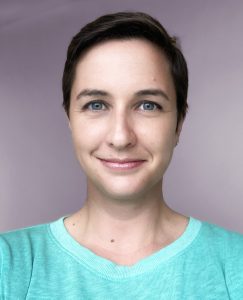 Anne Hunnell Chen is an Assistant Professor in the Art History and Visual Culture and Experimental Humanities Programs at Bard College. She specializes in the art and archaeology of the globally-connected Sasanian and Roman worlds. She has held a fellowship in the Department of the Ancient Near East at the Metropolitan Museum of Art in New York and a postdoctoral associateship in Yale University's ARCHAIA program for the Study of Premodern Cultures and Societies. She has published on Roman, Persian, and Digital Humanities topics, and is also the founder and co-director of the International (Digital) Dura-Europos Archive (IDEA). Funded by the National Endowment for the Humanities, IDEA is aimed at dislodging enduring impacts of colonialism through digital reassembly and recontextualization of legacy archaeological data from the site of Dura-Europos (Syria). Dr. Chen also serves as network co-chair and Annotations Activity co-coordinator for the international Pelagios Network.
The Zoom webinar link for those wishing to watch the live stream is: https://ucla.zoom.us/j/94721468611
var gform;gform||(document.addEventListener("gform_main_scripts_loaded",function(){gform.scriptsLoaded=!0}),window.addEventListener("DOMContentLoaded",function(){gform.domLoaded=!0}),gform={domLoaded:!1,scriptsLoaded:!1,initializeOnLoaded:function(o){gform.domLoaded&&gform.scriptsLoaded?o():!gform.domLoaded&&gform.scriptsLoaded?window.addEventListener("DOMContentLoaded",o):document.addEventListener("gform_main_scripts_loaded",o)},hooks:{action:{},filter:{}},addAction:function(o,n,r,t){gform.addHook("action",o,n,r,t)},addFilter:function(o,n,r,t){gform.addHook("filter",o,n,r,t)},doAction:function(o){gform.doHook("action",o,arguments)},applyFilters:function(o){return gform.doHook("filter",o,arguments)},removeAction:function(o,n){gform.removeHook("action",o,n)},removeFilter:function(o,n,r){gform.removeHook("filter",o,n,r)},addHook:function(o,n,r,t,i){null==gform.hooks[o][n]&&(gform.hooks[o][n]=[]);var e=gform.hooks[o][n];null==i&&(i=n+"_"+e.length),gform.hooks[o][n].push({tag:i,callable:r,priority:t=null==t?10:t})},doHook:function(n,o,r){var t;if(r=Array.prototype.slice.call(r,1),null!=gform.hooks[n][o]&&((o=gform.hooks[n][o]).sort(function(o,n){return o.priority-n.priority}),o.forEach(function(o){"function"!=typeof(t=o.callable)&&(t=window[t]),"action"==n?t.apply(null,r):r[0]=t.apply(null,r)})),"filter"==n)return r[0]},removeHook:function(o,n,t,i){var r;null!=gform.hooks[o][n]&&(r=(r=gform.hooks[o][n]).filter(function(o,n,r){return!!(null!=i&&i!=o.tag||null!=t&&t!=o.priority)}),gform.hooks[o][n]=r)}});
Pourdavoud Center Lecture Series – Anne Hunnell Chen