Physiognomy at the Crossroad of Magic, Science and the Arts
Jan 20 @ 9:00 am
-
Jan 21 @ 5:00 pm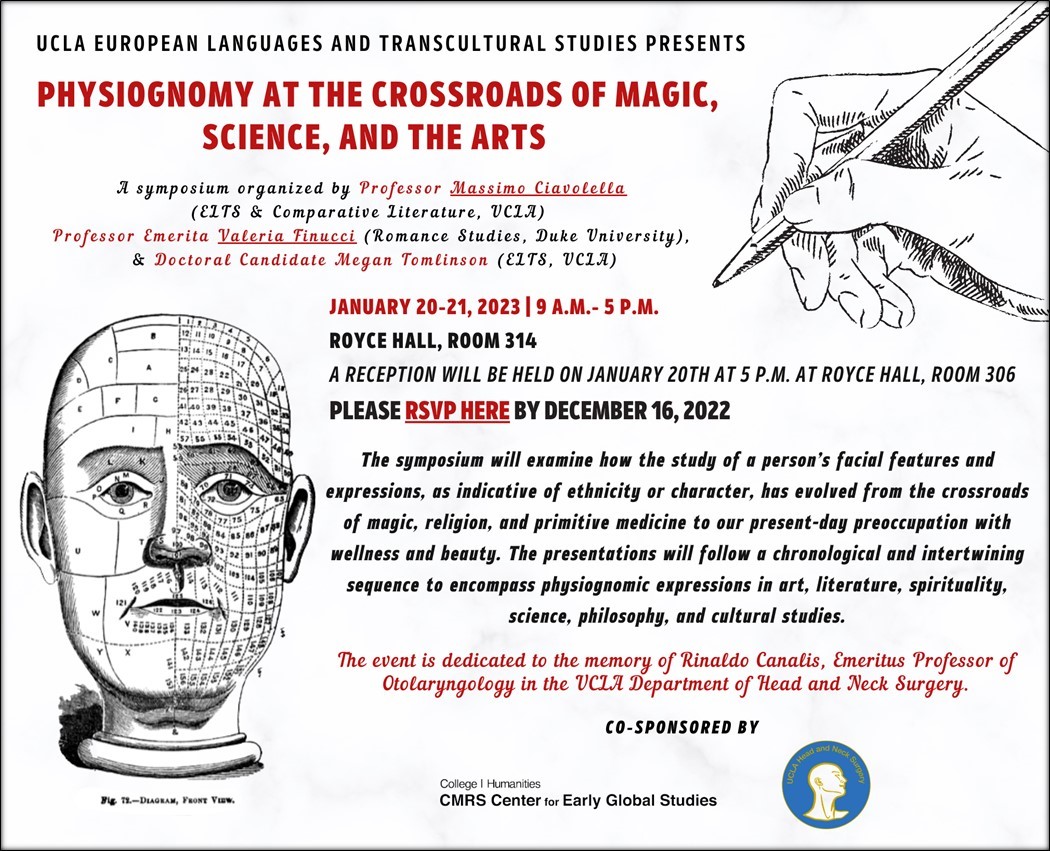 A symposium organized by Professor Massimo Ciavolella (ELTS and Comparative Literature, UCLA), Professor Emerita Valeria Finucci (Romance Studies, Duke University) and doctoral candidate Megan Tomlinson (ELTS, UCLA).
The symposium will examine how the study of a person's facial features or expressions as indicatives of character or ethnicity, has evolved from the crossroad of magic, religion, and primitive medicine to present day cultural preoccupation with wellness and beauty. In this context, the discoveries of regional (cranio-facial) neurophysiology and psychology and the practice of cosmetic and reconstructive surgery have a centuries old relationship with physiognomy. As the study of one's outward appearance evolved from its classical roots and humanistic self-representations through 18th and 19th century adaptations in fiction and travelogues, it gradually became a scientific discipline. Along the way, however, physiognomy came to be associated with the pseudo-sciences of phrenology and craniology and used to promote eugenic policies. Thus, it became tainted with racial bigotry and biological determinism, and trapped within questions of delinquency, monstrosity and posthumanism. In short, throughout its history, physiognomy has played both positive and negative roles in the evolution of significant aspects of the socio-cultural order of the western world that merit contemporary update and in-depth study.
The presentations of the symposium will follow a chronological and intertwining sequence to encompass physiognomic expressions in art, literature, spirituality, science, philosophy, and cultural studies.
This event is dedicated to the memory of Rinaldo Canalis, Emeritus Professor of Otolaryngology in the UCLA Department of Head and Neck Surgery.
Co-sponsored by CMRS-CEGS.
9 am – 5 pm on January 20-21, 2023 in Royce Hall 314.