Objects of Conversion in Early Modern Europe
Feb 15, 2018
-
Feb 17, 2018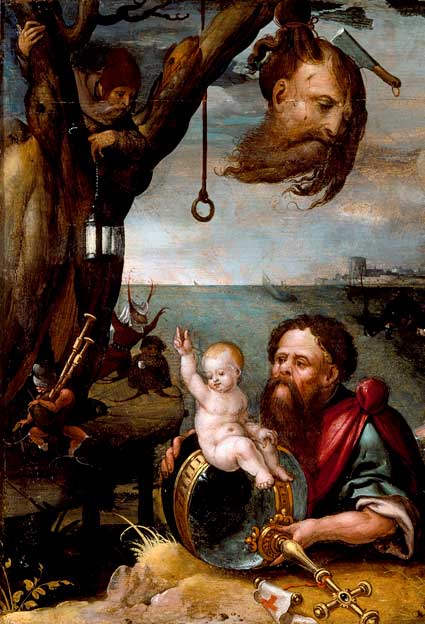 CMRS Early Modern Conversions Conference
Can objects convert? Exploring the relationship between objects and conversion can usefully complicate the usual distinctions between subjects and objects. From sacramental materials to holy wells, human hands to books, new kinds of food and drink to precious metals and forms of currency, objects can both convert and be converted, tangling any linear chain of causality. Objects are also purposes, inviting us to ask not only the how but also the why of conversions.
This conference, organized by Professor Robert N. Watson (English, UCLA) and Professor Holly Crawford Pickett (English, Washington and Lee) and presented in conjunction with the Early Modern Conversions project headquartered at the Institute for the Public Life of Arts and Ideas at McGill University, brings together specialists from a variety of fields in the humanities to discuss these questions in the context of early modern Europe.
Accusations of idolatry haunted the participation of objects in transformative worship, as accusations of apostasy haunted religious conversions. Theology thus provided the core vocabulary for issues of conversion in many other areas. How did early modern developments in natural history shape the way people understood their environments—their power over external objects, including non-human animals—and hence their own subjectivities? How did changing understandings of cognition (including embodied and extended cognition) and virtue (as both physical and spiritually manifested) shape interactions between humans and non-humans? What confessional and political implications did these changing interactions entail? And what can we learn from them as we wrestle with the dangerous energies of religious conflict in the 21st century?
Advance registration is requested. Please click here to complete the short registration form. No fee. Limited seating.
THURSDAY, FEBRUARY 15, 2018
UCLA Grunewald Center Collection at the Hammer Museum – Closed session
2:00
Ornamental Prints Workshop
UCLA Royce Hall 314 – Public Session
4:30
Opening Remarks
Keynote lecture: Joe Moshenska (English, Cambridge & Oxford Universities)
"Dolls and Idols: Iconoclasm as Child's Play in the Early Modern World"
5:45
Reception
FRIDAY, FEBRUARY 16, 2018
UCLA Royce Hall Room 306 – Closed Session
9:00
Seminar led by Carla Nappi and Paul Yachnin, with Anna Lewton-Brain, Juan Luis Burke, Carla Benzan, Sarah Crover, Devin Fitzgerald, Gül Kale, Ashley O'Mara, Romina Wainberg, David Mitchell
UCLA Royce Hall 314 – Public sessions
11:45
PANEL I: ANIMAL CONVERSIONS
Chair: Robert N. Watson (English, UCLA)Karen Raber (English, The University of Mississippi)
"Meat's Wounds"

Bruce Boehrer (English, Florida State University)
"Four Centuries of Puppy Play; or, Our Doggies, Ourselves"

Keith Botelho (English, Kennesaw State University)
"Hives of Glass: Apian Conversions"

12:45
Lunch Break
2:00
PANEL II: OBJECTS AND RELIGION
Chair: Robin Kello (English, UCLA)Julian Yates (English, University of Delaware)
"Burn Before Reading"

Allison Stielau (History of Art, University College London)
"Liquid Conversions"

Molly Murray (English & Comparative Literature, Columbia University)
"Read No Further"

3:30
Break
3:45
PANEL III: THEATRA DEORUM
Chair: Debora Shuger (English, UCLA)Victoria Yeoman (History, University of North Carolina)
"Conversion as Continuity: Rock Crystal and Materiality in Early Modern Europe"

Torrance Kirby (Ecclesiastical History, McGill University)
"Conversion of object or subject? The question of presence in Reformation sacramental controversy"

Holly Pickett (English, Washington and Lee University)
"Converting Relics, Converting Senses"

5:15
Closing Remarks
SATURDAY, FEBRUARY 17, 2017
Los Angeles County Museum of Art – Closed session
10:00
Visit to the Ahmanson galleries featuring "object lessons" presentations
LACMA Brown Auditorium – Closed session
12:00
Roundtable: "The Things They Carried"
Moderator: Bronwen Wilson (Art History, UCLA)Stephanie Cavanaugh (Conversions Postdoctoral Fellow, McGill University)

Carla Nappi (Canada Research Chair in Historical Pataphysics, University of British Columbia)

Benjamin Schmidt (History, University of Washington)

Kathleen Perry Long (French, Cornell University)

1:30
Lunch