"The Enemy in Italian Renaissance Epic" – New Book Salon
Mar 3, 2021 @ 5:00 pm
-
6:00 pm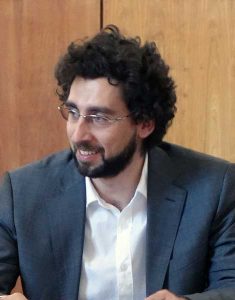 Professor Andrea Moudarres, UCLA Department of Italian, discusses his recent book, The Enemy in Italian Renaissance Epic.
The Enemy in Italian Renaissance Epic follows the same narrative of internal strife, exploring enmity within the self, the state, and the world through the prism of prominent works of the Italian literary canon: Dante's Commedia, Luigi Pulci's Morgante, Ludovico Ariosto's Orlando Furioso, and Torquato Tasso's Gerusalemme Liberata. The book's central argument is that early modern Italian literature conceived of all forms of hostility—even those conventionally considered external, such as the conflicts between Christian and Islamic forces in the Middle Ages and Renaissance—as predominantly internal. In other words, these poems' often critical engagement with the political dynamics of their time shows enmity arising ultimately from within political or religious entities.
We invite faculty and students to join us. CMRS has started a New Book Salon program aimed at fostering intellectual community by engaging faculty authors about their recently published books and articles. The Salon will feature an author's presentation and commentary followed by general discussion.