Iranian Studies: Āvānegār Film Screening and Panel Discussion
Apr 8, 2022 @ 11:00 am
-
1:00 pm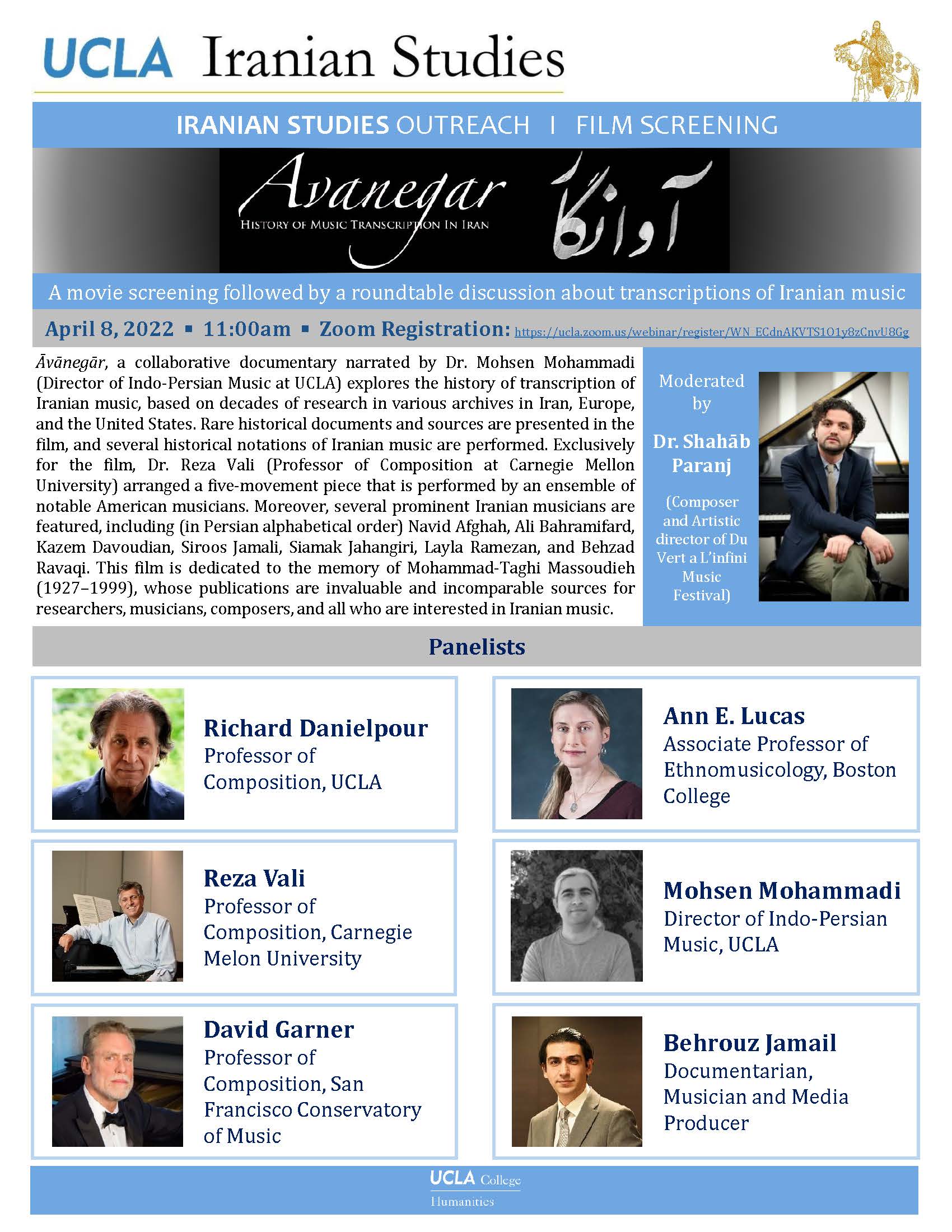 Āvānegār, a collaborative documentary narrated by Dr. Mohsen Mohammadi (Director of Indo-Persian Music at UCLA) explores the history of transcription of Iranian music, based on decades of research in various archives in Iran, Europe, and the United States. Rare historical documents and sources are presented in the film, and several historical notations of Iranian music are performed. Exclusively for the film, Dr. Reza Vali (Professor of Composition at Carnegie Mellon University) arranged a five-movement piece that is performed by an ensemble of notable American musicians. Moreover, several prominent Iranian musicians are featured, including (in Persian alphabetical order) Navid Afghah, Ali Bahramifard, Kazem Davoudian, Siroos Jamali, Siamak Jahangiri, Layla Ramezan, and Behzad Ravaqi. This film is dedicated to the memory of Mohammad-Taghi Massoudieh (1927–1999), whose publications are invaluable and incomparable sources for researchers, musicians, composers, and all who are interested in Iranian music.
Moderator:
Dr. Shahab Paranj
Composer and Artistic director of Du Vert a L'infini Music Festival
Shahab Paranj is an Iranian composer and instrumentalist. He is considered as one of the pioneers among his generation of Iranian composers whose composition style integrates Persian and Western genres.
Panelists:
Richard Danielpour
Professor of Composition, UCLA
Grammy-Award-winning composer Richard Danielpour has established himself as one of the most gifted and sought-after composers of his generation. With Nobel Laureate Toni Morrison, Danielpour created his first opera, Margaret Garner. Danielpour is one of the most recorded composers of his generation, and he has received several national and international awards and prizes.
Reza Vali
Professor of Composition, Carnegie Melon University
Iranian Composer Reza Vali is known as the "Persian Bartók," given that he combines traditional work with modern compositional techniques. He has received numerous honors and commissions, and his music has been performed in Europe, China, Chile, Mexico, Hong Kong, and Australia and is recorded on the Naxos, New Albion, MMC, Ambassador, Albany, and ABC Classics labels.
David Garner
Professor of Composition, San Francisco Conservatory of Music
David Garner is an American composer of opera and vocal, instrumental, and chamber music. A composition autodidact, Garner's works have won the 2015 American Prize in Composition as well as several Global Music Awards.
Ann E. Lucas
Associate Professor of Ethnomusicology, Boston College
Ann E. Lucas is an ethnomusicologist who specializes in music traditions of the Persian and Arabic-speaking Near East.  Her primary research focuses on the history of music in Iran and the relationship between significant cultural upheaval and musical change over epochs. Her monograph, won Society for Ethnomusicology's Bruno Nettl Prize.
Mohsen Mohammadi
Director of Indo-Persian Music, UCLA
Mohsen Mohammadi specializes in the music of Iran and the Middle/Central/Near East and plays the setar. His publications are based on his experience as a musician, on fieldwork, and on a wide range of first-hand historical sources including manuscripts, diaries and memories, old newspapers, and early recordings. His publications include Musical Souvenirs: European Transcriptions of Persian Music.
Behrouz Jamail
Documentarian, Musician and Media Producer
Behrouz Jamali's musical education embraces Persian, Western, and Azeri instruments and styles. Behrouz Jamali's filmmaking career focuses on social and musical documentaries. He has directed and produced several documentaries in collaboration with various media companies, such as The Experts' Take on REDES with Naxos Records.
Please click here to register and receive the Zoom information.