In the Workshop of an Ancient Egyptian Sculptor
Apr 23, 2018 @ 2:00 pm
-
5:00 pm
Humanities Room 365,
415 Portola Plaza




Los Angeles

,

CA

90095

United States
+ Google Map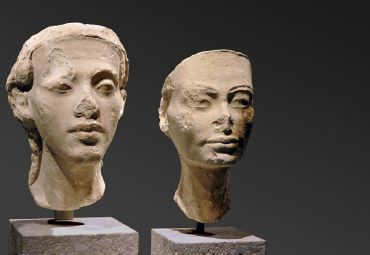 In 1912, the excavation team of the Deutsch Orient-Gesellschaft under the direction of Ludwig Borchardt revealed the exceptional remains of the estate and workshop of an ancient Egyptian sculptor of the middle of the 15th century BCE, who worked for Pharaoh Akhenaten in the latter's new royal residence of Akhet-Aten (modern Amarna), in Middle Egypt. Next to the world-famous bust of Nefertiti, the German excavators unearthed a collection of plaster portrait studies that allow reconstructing the creation procedure of ancient Egyptian portraits as well as the technique used to ensure the consistency of royal portraiture in ancient Egypt. The presentation will address those issues from a hands-on perspective, as well as the reason why this royal sculptor, named Thutmose, kept those plaster pieces in his estate.
Dimitri Laboury is Research Director of the FNRS, the National Foundation for Scientific Research of Belgium, at the University of Liège, where he teaches Ancient Egyptian Art History, Archaeology, History and History of Religion, as Associate Professor. Trained as an Egyptologist and an Art Historian, he specialized in the study of Ancient Egyptian thought and cultural history through the art of that civilization. His interests range from the study of royal statuary to the analysis of painterly practices in the decoration of Theban Tombs, and from the history of western reception of Ancient Egyptian art to a theoretical approach to the functioning and meaning of Ancient Egyptian art. He is currently preparing the edition of an Oxford Handbook of Egyptian Epigraphy and Paleography at Oxford University Press.
if(typeof gf_global == 'undefined') var gf_global = {"gf_currency_config":{"name":"U.S. Dollar","symbol_left":"$","symbol_right":"","symbol_padding":"","thousand_separator":",","decimal_separator":".","decimals":2},"base_url":"https://nelc.ucla.edu/wp-content/plugins/gravityforms","number_formats":[],"spinnerUrl":"https://nelc.ucla.edu/wp-content/plugins/gravityforms/images/spinner.gif"};jQuery(document).bind('gform_post_render', function(event, formId, currentPage){if(formId == 77) {} } );jQuery(document).bind('gform_post_conditional_logic', function(event, formId, fields, isInit){} ); jQuery(document).ready(function(){jQuery(document).trigger('gform_post_render', [77, 1]) } );