Illustrating the Vitae patrum: The Rise of the Eremitic Ideal in Fourteenth-Century Italy
Apr 12, 2022 @ 5:00 pm
-
6:00 pm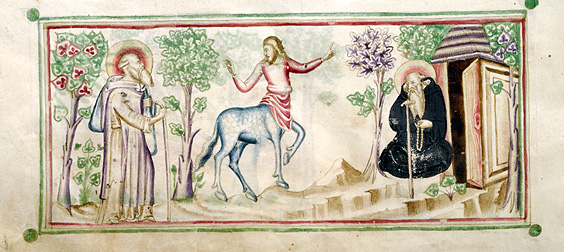 The Annual Richard & Mary Rouse History of the Book Lecture
In the late third and fourth centuries, a number of men and women from Egypt, Palestine, and Syria chose to make a daring break with society, renouncing their familial claims and wealth so that they could lead a life of perfection in the desert. By withdrawing from society to the desert to undergo the ultimate test of faith, these men and women, known to later generations as the Desert Fathers and Mothers, committed themselves to sacrifice, to an exclusive reliance on God, and to the letting-go of ego. Their lives became legends that resonated across the centuries to come. In particular, beginning in the fourteenth century, mendicant orders in Italy saturated the Christian devotional landscape with stories of the hermit saints, extolling the ascetics as exemplars of an ideal piety that was worthy of emulation.
Scholars have considered how images participated in the rise of the eremitic ideal by allowing the faithful to go in eremo (into the desert); however, they have focused primarily on wall and panel paintings, leaving illustrated copies of the Vitae patrum unexamined. This talk sheds light on heretofore neglected illustrated copies, which are often far more extensive in their visual narratives than the pictorial programs of wall and panel paintings, placing particular focus on the Pierpont Morgan Library's richly illustrated manuscript of the Vitae patrum (MS. M. 626).
Denva Gallant (Assistant Professor, Department of Art History, University of Delaware) is a specialist in European medieval art and architecture, with an emphasis on manuscript illumination and the figural arts of the Trecento. Her scholarly work explores themes of narrative, the rise of the eremitic ideal as exemplum virtutis, and issues of patronage in the Middle Ages. She has received a number of research fellowships including awards from Villa I Tatti, the Harvard University Center for Italian Renaissance Studies and Center for Advanced Study in the Visual Arts. Her current book project, Illustrating the Vitae patrum: The Rise of the Eremitic Ideal in Fourteenth-Century Italy, is the first work to examine comprehensively the Morgan Library's richly illustrated manuscript of the VP (MS. M. 626), whose extraordinary illustrations comprise a singular witness to the rise of the eremitic ideal and its impact on the visual culture of late medieval Italy.
Pictured above: Anthony Abbot the Great: Scene, guided by Satyr to Cave of Paul — Anthony Abbot the Great, nimbed, wearing monk's habit, sack slung over left shoulder, with right hand on tau-staff, following satyr depicted as centaur, turning back toward him and gesturing. Both before Paul the Hermit, wearing monk's habit, seated on ground, with right hand on tau-staff and with left hand holding rosary, before entrance to hermitage, open door; amid trees and landscape. Scene from Jerome, Life of Paul the Hermit. From Vitae patrum, Italy, Naples, between 1350 and 1375; Morgan Library MS M.626 fol. 2v.
COVID-19 Attendance Policy for event entry:
For UCLA students, staff, and faculty: completion of campus symptom monitoring survey; present clearance certificate.
For the public: Valid ID and proof of vaccination or, Valid ID, verbal attestation to an exception, and a negative COVID test within 72 hours.
Please note that all attendees must wear face masks.
Tuesday, April 12 at 4:30 pm Pacific Time
Register here for onsite attendance in Royce 314 or online attendance on Zoom.