'Heavenly Hermaphrodites': Adam, Eve, and the Creation of Sex
Jan 30, 2019 @ 4:30 pm
-
5:30 pm
CMRS Distinguished Visiting Scholar Lecture
This lecture by Leah DeVun, (History, Rutgers University) examines how certain ancient and medieval thinkers claimed that "hermaphroditism" was the original condition of humanity, created by God and documented in the first chapters of Genesis. The idea that Adam was a hermaphrodite fueled medieval debates about sex and gender, as well as about human nature. In the modern world, objections to transgender and gender-nonconforming people often cite the Bible, which is viewed as describing the division of humans into two distinct sexes. Historians and other scholars, Professor DeVun argues, should consider more carefully how Christian ideas about the sexed body emerged and developed – such histories have the power to disrupt our certainty about which sexes and genders are legitimate, natural, and deserving of human dignity.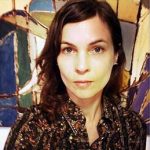 Leah DeVun is an Associate Professor of History at Rutgers University. She is the author of Prophecy, Alchemy, and the End of Time (Columbia) and co-editor of Trans*Historicities (Duke), as well as articles in GLQ, WSQ, Osiris, postmedieval, and Radical History Review. Her current research interests lie in the history of science and the history of gender, sex, and sexuality in medieval and early modern Europe.
Co-sponsored by the UCLA Department of History.