Film Screening: AU HASARD BALTHAZAR (France, 1966)
Feb 23, 2018 @ 7:30 pm
-
9:30 pm
Billy Wilder Theater,
10899 Wilshire Blvd




Los Angeles

,

CA

90024

United States
+ Google Map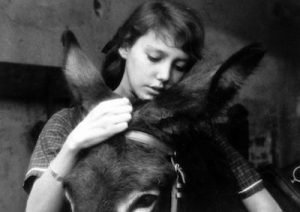 Co-presented by UCLA Film & Television Archive and the Center for European and Russian Studies
EUROPE IN FOUR THEMES: ANIMALS
UCLA Film & Television Archive and the Center for European and Russian studies have partnered this year to present a quarterly, interdisciplinary  festival of film and music, in collaboration with the Getty Center, that explores European culture, politics and society through the prism of four themes: Animals, Food, Music and Architecture/Landscape. Every calendar, the Archive will a devote a weekend of screenings to films by European and Russian filmmakers that explore these themes in compelling ways. A noted expert in a related field of study will be invited to respond to the films during post-screening conversations.
We launch this initiative February 23-25 with three films centered around animals, Robert Bresson's Au Hasard Balthazar (France, 1966), Kornél Mundruczó's White God(Hungary/Germany/Sweden, 2014) and Vladimir Bortko's Heart of a Dog (Soviet Union, 1988). Philosopher and ethologist Vinciane Despret, professor at the University of Liège, Belgium, will join us at each screening to discuss the films. A leading voice in the emerging field of scientific humanities, Despret, in her latest book, What Would Animals Say If We Asked the Right Questions? (University of Minnesota Press, 2016), challenges with humor and insight the received scientific and anecdotal wisdom about animal behavior and agency.
These screenings take place in conjunction with a lecture-concert at the Getty Center on Saturday, February 24 at 7:30pm, featuring a presentation by Laure Murat and performances of works by Rimsky-Korsakov, Fauré, Rameau, Rossini, Cage, Gershwin, and others. The program features the first U.S. appearance of Vincent Penot, clarinetist of the Opéra de Paris, who performs three pieces on the program. For more information, please visit getty.edu.
Special thanks: Laure Murat, director—Center for European and Russian Studies.
---
FRIDAY, FEBRUARY 23 7:30 PM
AU HASARD BALTHAZAR France, 1966
Directed by Robert Bresson. Producer: Mag Bodard. Screenplay: Robert Bresson. Cinematographer: Ghislain Cloquet. Editor: Raymond Lamy. Production Designer: Pierre Charbonnier: Music: Jean Wiener. With: Anne Wiazemsky, Walter Green, François Lafarge, Jean-Claude Guilbert, Philippe Asselin.
The inextricably intertwined lives of Marie (Anne Wiazemsky), a farmer's daughter, and Balthazar, the donkey she befriends when a child, are at the center of Robert Bresson's austere masterpiece of human cruelty, suffering and compassion. Marie and Balthazar share tormentors in their provincial village, including Gerard (François Lafarge), the local gang leader, whose brutish treatment of both, and their resignation to it, drives the film's episodic narrative with unremitting fate. Saintliness and transcendence are ever present themes in Bresson's modernist parable while the powerful, emotional pull of Balthazar's presence on screen raises intriguing questions about the nature of animal "performance," particularly within the context Bresson's famous use of non-actors.
35mm, b/w, in French w/ English s/t, 95 min.
In person: Vinciane Despret.
---
SATURDAY. FEBRUARY 24 3:00 PM
WHITE GOD Hungary/Germany/Sweden, 2014
Directed by Kornél Mundruczó. Producers: Eszter Gyárfás, Viktória Petrányi. Screenplay: Kornél Mundruczó, Viktória Petrányi, Kata Wéber. Cinematography: Marcell Rév. Editor: Dávid Jancsó. Production Designer: Márton Ágh. Music: Asher Goldschmidt. With: Zsófia Psotta, Sándor Zsótér, Lili Horváth, Szabolcs Thuróczy, Lili Monori.
Hungarian writer-director Kornél Mundruczó jacks up the story of a lost pet's journey home, usually the stuff of children's films, into a take-no-prisoners thriller that puts some serious bite into the age old question: Who's more human, us or them? When her mother leaves for a conference, Lili (Zsófia Psotta) must stay with her estranged father (Sándor Zsótér) who takes an immediate dislike to Lili's dog Hagen. After dad puts the mutt out on the street, Hagen experiences a series of dark, violent encounters with people while Lili desperately searches for him. Eventually thrown into a harsh city kennel, Hagen reaches the end of his leash, rises up and leads a vengeful canine rebellion through the streets of Budapest.
DCP, color, in Hungarian w/ English s/t, 121 min.
In person: Vinciane Despret.
---
SUNDAY, FEBRUARY 24 7:00 PM
HEART OF A DOG Soviet Union 1988
Directed by Vladimir Bortko. Screenwriter: Nataliya Bortko. Based on the novel by Mikhail A. Bulgakov. Cinematographer: Yuriy Shaygardanov. Editor: Leda Semyonova. Production Designer: Vladimir Svetozarov. Music: Vladimir Dashkevich. With: Evgeniy Evstigneev, Vladimir Tolokonnikov, Boris Plotnikov, Roman Kartsev, Nina Ruslanova.
The political awakening of a stray dog is the leaping off point for Soviet author Mikhail A. Bulgakov's classic 1925 satire of Lenin's New Economic Policy, brilliantly adapted for Russian television by director Vladimir Bortko at the tail end of the Soviet era. The film opens from the dog's point-of-view as he prowls Moscow's alleys curiously commenting on the proletariat scene until he's snapped up by a quack doctor (Evgeniy Evstigneev). A bourgeois hold over who offers dubious anti-aging treatments to Soviet officials, he transforms the dog into a proto human through a wildly irresponsible experiment. Before he knows it, he has a committed revolutionary living in his apartment with an equal dislike for capitalists and cats.
Digital, b/w, in Russian w/ English s/t, 136 min.
In person: Vinciane Despret.