Early Trade in the Eastern Mediterranean
Apr 16, 2018 @ 2:00 pm
-
4:00 pm
Humanities Room 365,
415 Portola Plaza




Los Angeles

,

CA

90095

United States
+ Google Map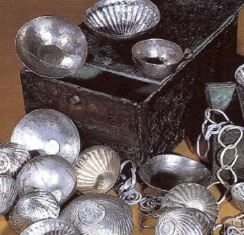 The talk will address the earliest trade from around the beginning of the Bronze Age. We will do our best to trace and follow its main lines, engaging with both the historical and theoretical questions that arise treating precious materials, textiles, and so on in addition to dealing with prices, values, import substitution and product substitution as well as circulation. We will discuss grain in particular in order to provide a critical perspective on long term changes. There will be a prolonged period for questions and discussion of the range of issues raised by such a broad topic, so audience input will be both vital and welcomed.
David Warburton studies political science, archaeology and Egyptology. He holds degrees from the American University of Beirut (BA, MA), the University of Bern (D.phil), and the Paris I Panthéon-Sorbonne (HDR). Warburton has since taught in cities across the world – Bern, Copenhagen, Aarhus, Lyon, Berlin, Cairo, and Changchun. His excavations, surveys & epigraphy have taken place in France, Switzerland, Syria, Iraq, Yemen, and Egypt. He serves as the Resident Director for the American Institute for Yemeni Studies from 1993-1995. His publications include books on economics, religion, chronology, stratigraphy; articles & chapters on economics, religion, chronology, stratigraphy, colour terminology, history of science, architecture, excavation reports; and many reviews.
jQuery(document).bind('gform_post_render', function(event, formId, currentPage){if(formId == 75) {} } );jQuery(document).bind('gform_post_conditional_logic', function(event, formId, fields, isInit){} ); jQuery(document).ready(function(){jQuery(document).trigger('gform_post_render', [75, 1]) } );