Cut Him Out in Little Stars: Romeo and Juliet in Diaspora
Jan 20, 2017 @ 9:45 am
-
Jan 21, 2017 @ 1:00 pm
Charles E. Young Research Library Main Conf. Room 11360,
Los Angeles

,

CA

90095-1575

United States
+ Google Map
Core Program 2016–17
Entertaining the Idea: Shakespeare, Philosophy, Performance
Conference 2: Cut Him Out in Little Stars: Romeo and Juliet in Diaspora
—a conference organized by Julia Reinhard Lupton, University of California, Irvine; Lowell Gallagher, University of California, Los Angeles; and James Kearney, University of California, Santa Barbara
co-sponsored by
UCLA Office of Interdisciplinary & Cross Campus Affairs
UCLA Department of English
UCI Shakespeare Center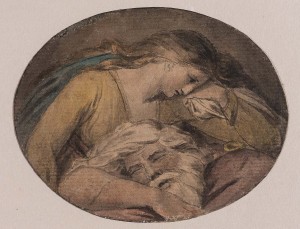 To me she speaks; she moves me for her theme:
What, was I married to her in my dream?
Or sleep I now and think I hear all this?
What error drives our eyes and ears amiss?
Until I know this sure uncertainty,
I'll entertain the offer'd fallacy.
—from The Comedy of Errors
To entertain is to delight and amuse but also to receive guests and hence to court risk, from the real dangers of rape, murder, or jealousy to the more intangible exhilaration of self-disclosure and captivation in response to another. To entertain an idea is to welcome a compelling thought or beckoning fiction into the disinhibited zone of speculative play. "I'll entertain the offer'd fallacy," says Antipholus of Syracuse as he abandons himself to the comedy of errors. Like Antipholus, readers of fictions and viewers of plays entertain "themes" and "dreams" on their way to recognition and new knowledge as a mode of testing the significance and reach of the thought-things and person-problems, encountered in a world co-created by their imaginative participation.
The second conference addresses the international migrations of Romeo and Juliet and the philosophical repercussions wrought by translation, adaptation, and media transfer.
Details & Booking: www.1718.ucla.edu/events/little-stars/