Conscience, Confession, and Conversion during Europe's Short Peace, c. 1595–1620
Apr 13, 2021 @ 9:00 am
-
Apr 16, 2021 @ 11:00 am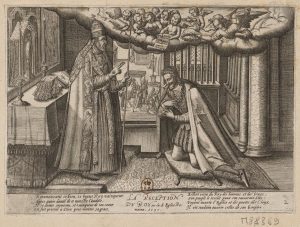 Tuesday, April 13, 2021
Thursday, April 15, 2021
Friday, April 16, 2021
9:00–11:00 a.m. PST each day
Presented online via Zoom Meetings
Organized by Drs. Noah Millstone and Nicholas Hardy (University of Birmingham)
Co-sponsored by the Arts and Humanities Research Council (AHRC) and the University of Birmingham
These events are free of charge, but you must register for each session in advance to attend. All audience members will receive instructions via email after registration. Click the following link to register directly with Zoom:
Tuesday, April 13: https://ucla.zoom.us/meeting/register/tJIqdO2gqDopGtDminK_6hI1tgvb-MTD_UZn
Thursday, April 15: https://ucla.zoom.us/meeting/register/tJApc-CtpzouG9ZuX7kdwsWyYzni4QLEQsXj
Friday, April 16: https://ucla.zoom.us/meeting/register/tJcvf-6gqjoiHt3-1_4qrbUCAxbXRgGtXN91
Between 1598 and 1618, a series of interlocking treaties and truces brought peace to Europe. The Civil Wars in France, the Anglo-Spanish war, the Dutch rebellion, even the so-called "Long War" between the Habsburgs and the Ottomans, were temporarily, if not definitively settled. In the absence of open confessional warfare, many countries found themselves obliged to re-think the relationship between church, confession, and political authority, and the privileges afforded to religious minorities. Confessional conflict turned inward, leading both Roman Catholicism and Reformed Protestantism into increasingly bitter and violent internal confrontations.
In a world of confessional uncertainty, true loyalties were more important than ever. The Europeans of the Short Peace accordingly became preoccupied with honesty and sincerity, and conversely with the problem of deception and dissimulation. Conversion was the problem that united these concerns. After all, the European order itself had been shaped by King Henri IV of France's 1594 reconciliation with Rome. During the Short Peace, Protestant and Catholic figures with public profiles were rumored to be 'secret converts,' part of a hidden force of unbelievers working from the inside to hollow out their ostensible religions. Apparently genuine converts were heavily scrutinized; other figures only retained their importance by insisting that they had not converted. This conference explores how individuals navigated the era's increasingly labyrinthine confessional landscape.
Once available, papers will be pre-distributed to registrants.
---
Program Schedule
Tuesday, April 13, 2021
9:00 a.m.
Bronwen Wilson, University of California, Los Angeles
Welcome (to be confirmed)
Noah Millstone and Nicholas Hardy, University of Birmingham
Introduction
Panel 1
Chair: (to be confirmed)
Corey Tazzara, Scripps College
"Pietro Della Valle and Portuguese Factionalism in Rome"
Eloise Davies, Peterhouse College, University of Cambridge
"Reformed but Not Converted: Paolo Sarpi and the English Mission in Venice, 1607–1610"
Stefania Tutino, University of California, Los Angeles and David Sebastiani, Scuola Normale Superiore di Pisa
"The Heart Wants What the Mouth Says? Conversion and the Hermeneutics of Duplicity"
11:00 a.m.
Conclusion
Thursday, April 15, 2021
9:00 a.m.
Panel 2
Chair: (to be confirmed)
Michael Questier, University of Durham
"The Reputation of James VI and I Revisited"
Máté Vince, Trinity College Dublin
"James I, Isaac Casaubon, and the International Controversy about the Jesuits' Words"
Anthony Milton, University of Sheffield
"Britain and Religious Exiles and Travelers in the Short Peace"
11:00 a.m.
Conclusion 
Friday, April 16, 2021
9:00 a.m.
Panel 3
Chair: (to be confirmed)
Sarah Mortimer, Christ Church College, University of Oxford
"Political Science in Confessional Context–Or, How to Use Daneau in Danzig"
Holly Pickett, Washington and Lee University
"Serial Conversion as Ecumenical Gesture?"
11:00 a.m.
Conclusion
---
Image: The Reception of Henri IV into the Catholic Church in 1595, from the Bibliothèque nationale de France