Confucianism in Everyday Life in Contemporary China
Oct 22, 2015 @ 12:00 pm
-
1:30 pm
Royce Hall 246,
Los Angeles

,

CA

90095

United States
+ Google Map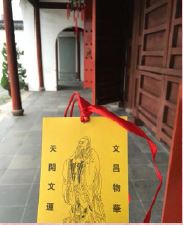 Anna Sun
Kenyon College
Thursday, October 22, 2015
243 Royce Hall
12:00 pm to 1:30 pm
Light lunch will be served
The revival of Confucianism in contemporary China has many dimensions, among which the political, the
educational, the ritual, and the ethical are the most prominent. In this lecture Anna Sun focuses on the last two, the ritual and the ethical revival of Confucianism in everyday practice. The work is based on extensive field research in Confucius temples, as well as interviews with ordinary people in urban China. The conclusions drawn from this research bear witness to the resilience of Confucianism as a structuring power in the religious, social, and ethical imagination of Chinese society today.
Anna Sun, Associate Professor of Sociology and Asian Studies at Kenyon College, took her Ph.D. in sociology from Princeton University in 2008. In 2010-11 she was awarded a fellowship at the Institute for Advanced Study in Princeton, where she completed Confucianism as a World Religion: Contested Histories and Contemporary Realities (Princeton: 2013). This work received the "Distinguished Book Award" from the Sociology of Religion Section of the American Sociological Association, and the "Best First Book in the History of Religion Award" from the American Academy of Religion.
Besides her research on the revival of Confucianism as a religion in contemporary China, Sun also works on larger conceptual and methodological issues in the study of Chinese religion. She was a Co-Principal Investigator in the research project "The Empirical Study of Religions in China," 2006-2009. She is currently a Co-Principal Investigator in the project "The Concept of Fu (Blessed Happiness) in Contemporary China: Searching for Well-Being, Purpose, and the Good Life," 2013-2016, for which she has been conducting ethnographic fieldwork on the social life of prayers in urban Shanghai. A fellow at the Center for Advanced Study in the Behavioral Sciences at Stanford University in 2015-16, she is working on her new book on the return of religion in contemporary China.
Co-sponsored by UCLA Asia Institute and UCLA Center for Chinese Studies
Free and open to the public. Register: csr@humnet.ucla.edu