CMRS Emerging Scholars Conference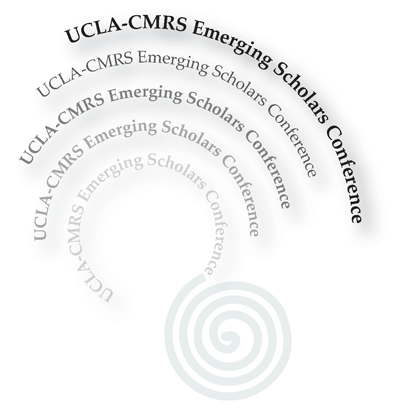 The UCLA Center for Medieval and Renaissance Studies Emerging Scholar conference directly engages the CMRS mission to support Graduate Student research. This one-day conference features UCLA graduate students from a variety of departments including Art History, Near Eastern Languages and Cultures, History, French, and English presenting recent research from topics that relate to CMRS's sphere of interest defined broadly as the period from Late Antiquity to the mid-seventeenth century. Organized by Sharon Gerstel, UCLA Professor of Art History and CMRS Associate Director.
Advance registration is requested. Please click here to complete the short registration form.
No fee. Limited seating. Self-pay parking in lots 2, 3, 4, and 5. Parking information at https://main.transportation.ucla.edu/campus-parking/visitors
8:00 am
Coffee, tea, fruit, pastries
8:30
Welcoming Remarks
Sharon Gerstel, CMRS Associate Director and conference organizer
David Schaberg, Dean of Humanities
8:45
Laura Horan (Art History)
"The Obelisks of Rome and Constantinople, The Tetrarchs of Luxor: An Exploration of the Continued Interest of Roman Rulers in Upper Egypt"
Introduced by  Sharon Gerstel
9:30
Jesse Siragan Arlen (NELC)
"Keeping Vigil in Differing Near Eastern Texts and Contexts: Ephrem the Syrian's Hymns of the Night and Gregory of Narek's Book of Lamentation"
Introduced by Peter Cowe
10:15
Break
10:30
Franka Horvat (Art History)
"Merging the Elite and Mass Production: Framing the Ivory Caskets of Norman Sicily"
Introduced by Sharon Gerstel
11:15
Patrick Morgan (History)
"Tokens of His Rule"
Introduced by Jessica Goldberg
12:00 pm
Richard Ibarra (History)
"Setting Apart a Saintly King and His Dynasty"
Introduced by Jessica Goldberg
12:45
Lunch Break
2:00
Anne Le (French & Francophone Studies)
"Translating a Text, Negotiating Culture: The Movement of Le Conte de Floire et Blanchefleur from Old French into Middle English"
Introduced by Sharon Gerstel
2:45
Gina Lorenz (French & Francophone Studies)
"Between Friend and Foe: Saracen Humanity in Jean de Joinville's Vie de Saint Louis"
Introduced by Sharon Gerstel
3:30
Hannah Maryan Thomson (Art History)
"Where Canons Dine and Kings Feast"
Introduced by Meredith Cohen
4:15
Break
4:30
Kersti Francis (English)
"Alchemy, the Liber Aureus, and the Erotics of Knowledge"
Introduced by Christine Chism
5:15
Kim Hedlin (English)
"Peripheral Earth, Peripheral Man"
Introduced by Christine Chism
6:00
Conclusion