Can These Bones Live? The Politics of Death in the Hebrew Bible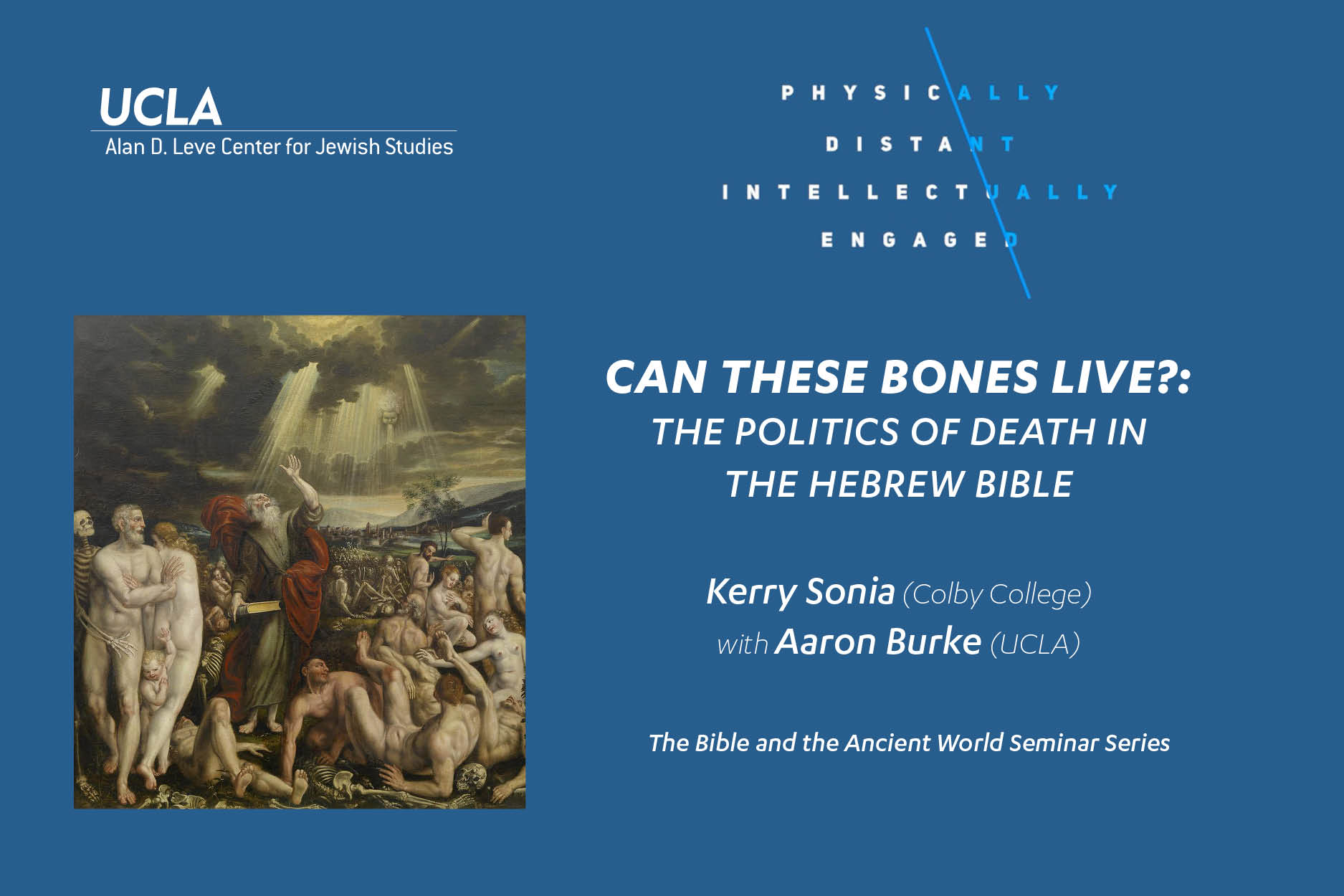 Kerry Sonia (Colby College) 
Moderator: Aaron Burke (UCLA) 
The Bible and the Ancient World Seminar Series
UCLA Alan D. Leve Center for Jewish Studies
UCLA Center for the Study of Religion
UCLA Department of Near Eastern Languages and Cultures
The cult of dead kin in ancient West Asia was a complex of practices in which the living offered care to the dead in the form of food and drink offerings, commemorative monuments, invocation of the names of the dead, and the protection and, when necessary, repatriation of human remains. This cultic care negotiated the ongoing relationships between the living and the dead and, in doing so, helped structure social, political, and topographical landscapes in terms of the past.
This talk examines the nature of the Israelite cult of dead kin, focusing on its role within the family and its relationship to the Jerusalem temple cult. Contrary to previous studies, I argue that centralized forms of cult, including the Jerusalem temple, do not attempt to suppress the cult of dead kin but, rather, continue to draw upon its imagery and individual practices in order to articulate ideologies regarding Israel and its patron deity. By reframing the normative religious discourse of biblical writers as dependent upon the cult of dead kin rather than opposed to it, this talk demonstrates that Israelite family religion is essential in understanding conceptions of national identity and divine sovereignty in the post-exilic period.
Kerry Sonia received her Ph.D. in Religions of the Ancient Mediterranean from the Department of Religious Studies at Brown University, and she teaches biblical literature and its reception at Colby College in Waterville, Maine. Her research focuses on family and household religion in the received traditions of the Hebrew Bible, material culture of the Iron Age and Second Temple period, and Northwest Semitic inscriptions. Her current book project examines the social and ritual dimensions of childbirth and miscarriage in the Hebrew Bible and is supported by the National Endowment for the Humanities.