Bilingual Lecture Series: اجراگری مردانگی توسط زنان هنرمند در موسیقی لاله‌زاری
May 15, 2022 @ 11:30 am
-
1:00 pm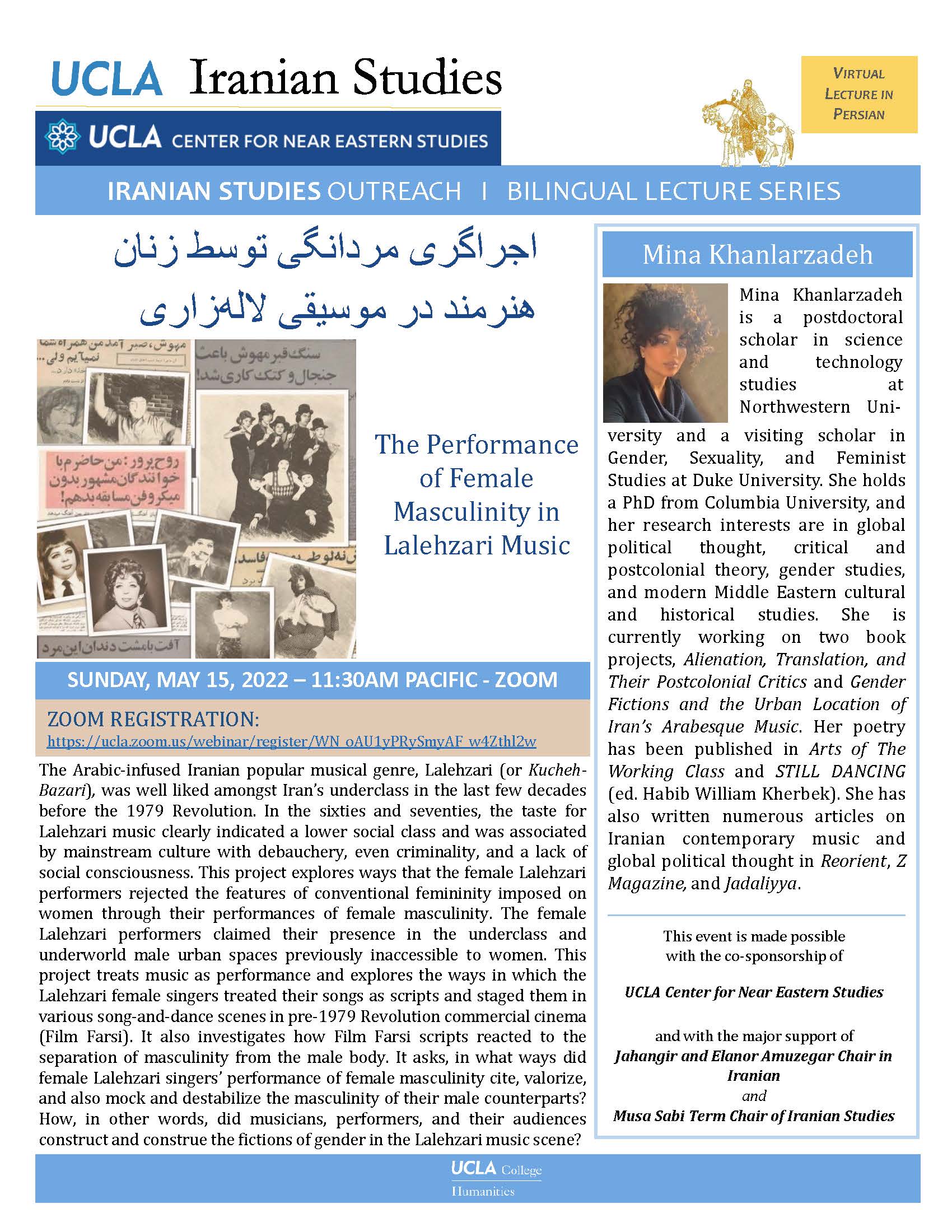 اجراگری مردانگی توسط زنان هنرمند در موسیقی لاله‌زاری
The Arabic-infused Iranian popular musical genre, Lalehzari (or Kucheh-Bazari), was well liked amongst Iran's underclass in the last few decades before the 1979 Revolution. In the sixties and seventies, the taste for Lalehzari music clearly indicated a lower social class and was associated by mainstream culture with debauchery, even criminality, and a lack of social consciousness. This project explores ways that the female Lalehzari performers rejected the features of conventional femininity imposed on women through their performances of female masculinity. The female Lalehzari performers claimed their presence in the underclass and underworld male urban spaces previously inaccessible to women. Central to the methodological approach of this project is the enduring question of how to narrate the stories of subaltern performers who are missing from the various archives without limiting their stories to the manner in which they were sexualized and objectified by the entertainment industry. This project treats music as performance and explores the ways in which the Lalehzari female singers treated their songs as scripts and staged them in various song-and-dance scenes in pre-1979 Revolution commercial cinema (Film Farsi). It also investigates how Film Farsi scripts reacted to the separation of masculinity from the male body. It asks, in what ways did female Lalehzari singers' performance of female masculinity cite, valorize, and also mock and destabilize the masculinity of their male counterparts? How, in other words, did musicians, performers, and their audiences construct and construe the fictions of gender in the Lalehzari music scene?
About the Speaker
Mina Khanlarzadeh is a postdoctoral scholar in science and technology studies at Northwestern University and a visiting scholar in Gender, Sexuality, and Feminist Studies at Duke University. She holds a PhD from Columbia University, and her research interests are in global political thought, critical and postcolonial theory, gender studies, and modern Middle Eastern cultural and historical studies. She is currently working on two book projects, Alienation, Translation, and Their Postcolonial Critics and Gender Fictions and the Urban Locations of Iran's Arabesque Music. Work from both projects has been published in Religions and British Journal of Middle Eastern Studies, and is forthcoming in Popular Music and Society and the collection of essays, Music and Society of Modern Iran (eds. Nahid Simadoust and Houchang Chehabi). Her poetry has been published in Arts of The Working Class and STILL DANCING (ed. Habib William Kherbek). She has also written numerous articles on Iranian contemporary music and global political thought in Reorient, Z Magazine, and Jadaliyya.
Click here to register and receive the Zoom information.