ARCE Practice Talks Round 1
Apr 6, 2018 @ 12:00 pm
-
3:00 pm
Humanities Room 365,
415 Portola Plaza




Los Angeles

,

CA

90095

United States
+ Google Map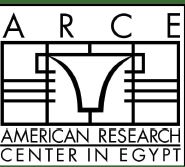 The Religious Significance of Timber in Ancient Egypt
Carrie Arbuckle (Archaeology). In this talk, the religious significance of timber in ancient Egypt is explored, particularly as it relates to coffin construction. This approach is based on a translation of a variation of Book of the Dead spell 193.
Hard Times: The Life, Death, and Afterlife of Three Individuals from Tell Edfu
Rose Campbell (archaeology). Excavations near the Temple of Edfu in 2012 unexpectedly revealed three human skeletons in a grain silo, dating to the twenty-first century BCE. Despite the importance of proper mortuary practice in ancient Egypt, these individuals lay sprawled in the silo with no evidence of burial treatment. This paper explores the lives of these three individuals and considers how and why they may have been deposited in such an unusual manner.
The Eastern Delta as a Middle Ground for Hyksos Identity Negotiation
Dani Candelora (Egyptology). Approaching the Eastern Delta as a middle ground for identity negotiation, this talk examines the cerebral side of cross-cultural interaction in the Second Intermediate Period. The Hyksos, themselves immigrants from the east, made strategic choices in the adaptation of Egyptian traditions or the maintenance and advertisement of their eastern identities to more successfully rule the mixed population of the Eastern Delta
This iframe contains the logic required to handle Ajax powered Gravity Forms.
jQuery(document).ready(function($){gformInitSpinner( 68, 'https://nelc.ucla.edu/wp-content/plugins/gravityforms/images/spinner.gif' );jQuery('#gform_ajax_frame_68').on('load',function(){var contents = jQuery(this).contents().find('*').html();var is_postback = contents.indexOf('GF_AJAX_POSTBACK') >= 0;if(!is_postback){return;}var form_content = jQuery(this).contents().find('#gform_wrapper_68');var is_confirmation = jQuery(this).contents().find('#gform_confirmation_wrapper_68').length > 0;var is_redirect = contents.indexOf('gformRedirect(){') >= 0;var is_form = form_content.length > 0 && ! is_redirect && ! is_confirmation;if(is_form){jQuery('#gform_wrapper_68').html(form_content.html());if(form_content.hasClass('gform_validation_error')){jQuery('#gform_wrapper_68').addClass('gform_validation_error');} else {jQuery('#gform_wrapper_68').removeClass('gform_validation_error');}setTimeout( function() { /* delay the scroll by 50 milliseconds to fix a bug in chrome */ jQuery(document).scrollTop(jQuery('#gform_wrapper_68').offset().top); }, 50 );if(window['gformInitDatepicker']) {gformInitDatepicker();}if(window['gformInitPriceFields']) {gformInitPriceFields();}var current_page = jQuery('#gform_source_page_number_68').val();gformInitSpinner( 68, 'https://nelc.ucla.edu/wp-content/plugins/gravityforms/images/spinner.gif' );jQuery(document).trigger('gform_page_loaded', [68, current_page]);window['gf_submitting_68'] = false;}else if(!is_redirect){var confirmation_content = jQuery(this).contents().find('.GF_AJAX_POSTBACK').html();if(!confirmation_content){confirmation_content = contents;}setTimeout(function(){jQuery('#gform_wrapper_68').replaceWith(confirmation_content);jQuery(document).scrollTop(jQuery('#gf_68').offset().top);jQuery(document).trigger('gform_confirmation_loaded', [68]);window['gf_submitting_68'] = false;}, 50);}else{jQuery('#gform_68').append(contents);if(window['gformRedirect']) {gformRedirect();}}jQuery(document).trigger('gform_post_render', [68, current_page]);} );} ); if(typeof gf_global == 'undefined') var gf_global = {"gf_currency_config":{"name":"U.S. Dollar","symbol_left":"$","symbol_right":"","symbol_padding":"","thousand_separator":",","decimal_separator":".","decimals":2},"base_url":"https://nelc.ucla.edu/wp-content/plugins/gravityforms","number_formats":[],"spinnerUrl":"https://nelc.ucla.edu/wp-content/plugins/gravityforms/images/spinner.gif"};jQuery(document).bind('gform_post_render', function(event, formId, currentPage){if(formId == 68) {} } );jQuery(document).bind('gform_post_conditional_logic', function(event, formId, fields, isInit){} ); jQuery(document).ready(function(){jQuery(document).trigger('gform_post_render', [68, 1]) } );