8th Latin American & Iberian Film Festival
Feb 1, 2021 @ 8:00 am
-
Mar 8, 2021 @ 5:00 pm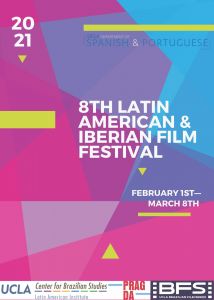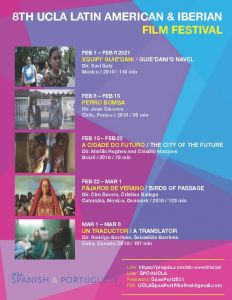 Due to the global pandemic, the 8th edition of the annual film festival has been transferred to an online format. This offers a unique possibility of reaching a wider audience while respecting all health regulations. Thus, the five films selected for this edition will be available for streaming for one week following their premiere dates.
Xquipi' Guie'dani [Guie'dani's navel] (2019) by Xavi Sala. Mexico. Available from Feb 1 to Feb 8.
Perro Bomba (2019) by Juan Cáceres. Chile. Available from Feb 8 to Feb 15.
A cidade do futuro [The city of the future] (2018) by Marília Hughes Guerreiro and Cláudio Marques. Brazil. Available from Feb 15 to Feb 22.
Pájaros de verano [Birds of passage] (2018) by Cristina Gallego and Ciro Guerra. Colombia. Available from Feb 22 to March 1.
Un traductor [A translator] (2018) by Rodrigo Barriuso and Sebastián Barriuso. Cuba and Canada. Available from March 1 to March 8.
To download the flyer please click here!