The 40th Annual UC Celtic Studies Conference & the Annual CSANA Meeting
Mar 8, 2018
-
Mar 11, 2018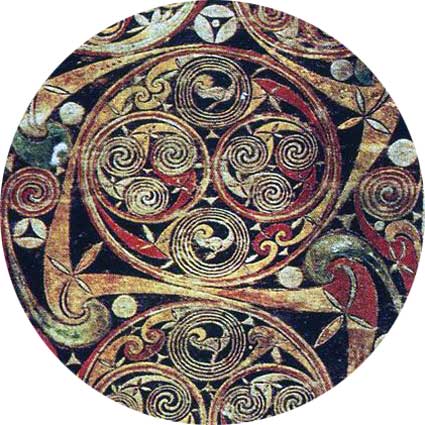 This joint meeting of the Celtic Studies Association of North America (CSANA) and the 40th Annual UC Celtic Studies Conference features papers on all aspects of Celtic culture including language, literature, history, art, and archaeology, from late antiquity to the present day.
The program is organized by Professor Joseph F. Nagy (Professor Emeritus, UCLA; Celtic Languages and Literatures, Harvard University), Dr. Karen E. Burgess (UCLA-CMRS), and the Celtic Colloquium student group.
Funded by the Campus Programs Committee of the Program Activities Board, the UCLA Center for Medieval and Renaissance Studies, the UCLA Program in Indo-European Studies, the UCLA Department of English, Dean David Schaberg of the Humanities Division, and the UCLA Graduate Students Association.
Advance registration is requested. Please click here to complete the short registration form.
No fee. Limited seating. Self-pay parking in lots 2, 3, and 4. Parking information at https://main.transportation.ucla.edu/campus-parking/visitors
THURSDAY, MARCH 8, 2018
ROYCE HALL ROOM 314
1:30 p.m.
Registration
2:00
Welcoming remarks by Dean David Schaberg, UCLA Humanities Division, and Professor Massimo Ciavolella, Director, UCLA Center for Medieval and Renaissance Studies
SESSION I – Chair: Karen Burgess (UCLA)

2:15
Kit Kapphahn (Aberystwyth University)
"Armour Maketh the Man: The Construction of Knightly Bodies in Gereint and Peredur"
 
Courtney Marie Selvage (University of Toronto)
"Adomnán ó doforfoirfí, a mná!: An Analysis and Contextualization of Some Legal Clauses in Cáin Adomnáin"
 
Brian J. Stone (Cal Poly Pomona)
"'I am the wind on the sea. I am a wave on the ocean': The Play of Metaphor in Oratorial Performance in Early Irish Saga"
3:45
Break
SESSION II – Chair: Charles MacQuarrie (CSU Bakersfield)

4:00-5:30
Patrick Duerr (Humboldt State University)
"Scottish Gaelic: Decline and Revival of a Memory"
 
Christina S. Brophy (Triton College)
"Gendered Imaginative Resistance in Twentieth-Century Ireland and St. Brigid Lore"
 
Nory Kaplan-Kelly (UC Irvine)
"The Anthropology of Peace: Northern Ireland as a Case Study"
6:30
Huw Pryce (Bangor University)
"'Edward Lhuyd (1659/60?-1709), Welsh Historical Culture, and the British Past"
Introduced by Malcolm Harris (UCLA)
FRIDAY, MARCH 9, 2018
ROYCE HALL ROOM 314
8:00 a.m.
Coffee/tea, pastries, fruit
SESSION III – Chair: Daniel Melia (UC Berkeley)

 8:30
Matthew Horrell (University of Iowa)
"Classical, Irish, and Indo-European Elements in the Táin Bó Cúailnge"
 
Darcy Ireland (Providence College)
"Examining Irish Traits of the Pseudo-Isidorian Liber de Numeris"
 
Matthieu Boyd (Fairleigh Dickinson University)
"Teaching Dafydd ap Gwilym along with Chaucer"
10:00
Break
SESSION IV – Chair: Patrick Wadden (Belmont Abbey College)

10:15
Peadar Ó Muircheartaigh (Dublin Institute for Advanced Studies)
"Cormac's Glossary and Dialectal Variation in Ninth-Century Munster"
Paul Russell (University of Cambridge)
"Gerald on David: the Version(s) of the Life of St. David by Gerald of Wales"
11:15
Break
SESSION V – Chair: Doris Voronca (UCLA)

11:30
Charlene M. Eska (Virginia Tech)
"Waifs and Strays: A Commentary from the Early Irish Legal Text Aidbred 'Claiming'"
 
Phillip A. Bernhardt-House (Skagit Valley College)
"Exploring Dionysian Themes in Celtic Cultures"
 
Bernhard Bauer (Maynooth University)
"You Know My Name (Look Up the Language): Non-Irish Personal Names in the Annals of Ulster"
1:00
Lunch Break (Executive Committee meeting)
SESSION VI – Chair: Heather Newton (Harvard University)

2:30
Antone Minard (Simon Fraser University)
"Branwen and the Mari Lwyd: An Enduring Welsh Cultural Metaphor"
 
Michaela Jacques (Harvard University)
"Pa ssawl rrann ymadrodd ysydd?: The Parts of Speech in Llanstephan 28″
 
Morgan E. Moore (Aberystwyth University)
"Poetry and the Sound of Grief in Fourteenth-Century Wales"
4:00
Break
4:15
Silva Nurmio (Dublin Institute for Advanced Studies)
"Disagreeing to Agree: Agreement Mismatches with Welsh Nouns and their Linguistic Context"
Introduced by Paul Russell (University of Cambridge)
5:15
Break
SESSION VII – Chair: Michael Meckler (Ohio State University)

5:30
Rebecca Shercliff (University of Cambridge)
"An Introduction to eSenchas"
 
Hilary Bogert-Winkler, Wes Hamrick, and Brendan Kane (University of Connecticut)
"Léamh: Learn Early Modern Irish"
6:30
Movie Night curated by Stefanie Matabang (UCLA) and Doris Voronca
(UCLA)
SATURDAY, MARCH 10
ROYCE HALL ROOM 314
8:30 a.m.
Coffee/tea, pastries, fruit
SESSION VIII – Chair: Karen Burgess (UCLA)

9:00
Patrick Wadden (Belmont Abbey College)
"The Careful Look: Writing History in Eleventh- and Twelfth-Century Ireland"
 
Katherine Leach (Harvard University)
"Medieval and Early Modern Welsh Charms: Originality and the Use of the Vernacular"
10:00
Break
SESSION IX – Chair: Stefanie Matabang (UCLA)

 10:15
Joseph F. Eska (Virginia Tech)
"Vergiateter"
Jessica Hemming (Corpus Christi College)
"Lean Lines: Englynion, Haiku, and the 'Slender' Expression of Life"
11:15
Break
11:30
Eve Sweetser (UC Berkeley)
"Metrics and Metaphor: Sound and Sense in Medieval Welsh Verse"
12:30
CSANA Business Meeting in Royce 314, with lunch for CSANA members
SESSION X – Chair: Jessica Hemming (Corpus Christi College)

2:00
Philip O'Leary (Boston College)
"Best Forgotten? The Irish Civil War on the Gaelic Stage"
Ciara Ryan (University College Cork)
"Wayland D. Hand in Montana: Early Efforts to Preserve Irish Folklore"
Joseph Shack (Harvard University)
"Reconsidering the Form and Function of the Early Irish Hendecasyllable"
3:30
Break
3:45
CSANA Seminar on Classical Irish Bardic Poetry (texts will be made available) featuring Mícheál Hoyne (Dublin Institute for Advanced Studies), Eoin Mac Cárthaigh (Trinity College), and Eoghan Ó Raghallaigh (National University of Ireland, Maynooth)
Chaired by Brendan Kane (University of Connecticut)
SUNDAY, MARCH 11, 2018
ROYCE HALL ROOM 314
8:30 a.m.
Coffee/tea, pastries, fruit
SESSION XI – Chair: Joseph Nagy (Harvard University)

9:00
Stefan Andre Waligur (Graduate Theological Union, Berkeley)
"Howling at the Moon: Meanings of the Irish Lament—Then and Now"
Joe Wolf (Harvard University)
"Insular Plague 2.0: The Philology of Disease Terms in Seventh- and Eighth-Century British and Irish Sources"
Charles MacQuarrie (CSU Bakersfield)
"Knees, Thighs, and Palms: Reading the Skin Writing in Lebor Gabála Érenn"
Aisling Ní Churraighín (National University of Ireland, Galway)
"Stories and Storytellers from Teelin, Co. Donegal"
11:00
Break
SESSION XII – Chair: Malcolm Harris (UCLA)

11:15
Aideen M. O'Leary (University of Aberdeen)
"Edmund Spenser's Interpretation of Medieval Irish History in A View of the Present State of Ireland"
Thomas R. Walsh (UC Berkeley)
"'A Supposed Old Shanachie': Mary Hutton's Translation of the Táin"
Nicholas Thyr (University of Cambridge)
"Meaning, Ethics, and the Beheading Game"