2022 Ahmanson-Getty Postdoctoral Roundtable–Cultivating Space: Land, Literature, and Art of the Long Nineteenth Century
May 13, 2022 @ 12:00 pm
-
2:00 pm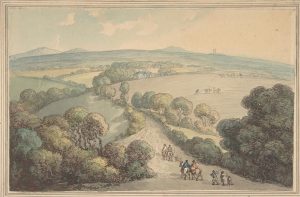 Organized by Lindsay Wells and Zach Fruit, Ahmanson-Getty Postdoctoral Fellows
Online Event via Zoom meeting. Please register in advance.
"Cultivating Space: Land, Literature, and Art of the Long Nineteenth Century" is presented by the 2022 UCLA Ahmanson-Getty postdoctoral working group, which builds on themes from the 2021-22 Core Program "Victorian Apocalypse: The siècle at its fin" hosted by UCLA's Center for 17th- & 18th-Century Studies and the William Andrews Clark Memorial Library.  As a complement to the Core Program, the working group explores how land management functioned as both an antidote and agent of extraction, entropy, and exhaustion in nineteenth-century Britain.
This interdisciplinary roundtable discussion will investigate the enclosure, colonization, cultivation, and "improvement" of land throughout the nineteenth century and beyond.  The roundtable will bring together papers on art, literature, and history to explore how the physical transformation of land across Britain and its former empire in turn transformed its broader cultural landscape.  We invite you to an afternoon of conversation and exchange as scholars across the humanities share their recent research.
Speakers
Joseph lbernaz, Columbia University
Phaan Howng, Maryland Institute College of Art
Sarah Mead Leonard (North Carolina Historic Sites)
Mary Mullen (Villanova University)
Jim Scown (Cardiff University)